George Lucas' "Star Wars: Clone Wars" is a visual feast, using mesmerizing computer graphics that make the trite "state-of-the-art" cliche sing. From the color palette to the enticing characters, this is a gotta-see pleasure.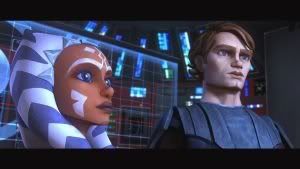 "Star Wars:Clone Wars" coming to Cartoon Network this fall
Cartoon Network screened an episode for TV writers gathered at the annual Television Critics Association Press tour in Beverly Hills. The weekly half-hour animated series, which airs this fall, looks every inch the "mini-movie" the press kit claims it to be.
The series picks up from where the summer movie leaves off, telling the stories of the Clone Wars, the time period between "Star Wars Episode 2: Attack of the Clones" and "Star Wars Episode 3: Revenge of the Sith."
"The series follows the movie," says David Filoni, 34, the supervising director. "Computer animation is constantly changing. Working with George, look at computers as an advanced pencil."
So how long can the Clone Wars last?
"The good thing about not just telling a story where we are stuck in one single arc. It's a three year history in the Star Wars universe, but so many stories we can explore," David said. "Longer it goes, more stories we can tell."
Anakin Skywalker and Obi-Wan Kenobi join newheroes like Anakin's padawan learner, Ahsoka and when Storm Troopers weren't the enemy.
"Begs the question about the Storm Troopers' betrayal," David says. "Ventress is a bit more sensuous, (which goes against) the Jedi."
Ventress, David said, is being prepared to delve into the Dark Side.
The first season will be 22 episodes beginning this fall, but the network hasn't yet releasedthe exact date.
"Because I wanted it to look like a painting, I did a textured hand-painted style on each charcter," David said. "If you don't have HD, then looks more like a painting, I've texturized them right down to their eyeballs."
Permalink Comments off