Fresh off those happy p.r. presses we have this cheery news to report:
NBC will resume the broadcast of many of its scripted series in April with new original episodes following the settlement of the Writers Guild of America strike, including "The Office," "30 Rock," "My Name Is Earl," "Law & Order," "Law & Order: Special Victims Unit," among other programs. And we've got official word on the return of two freshman shows in the fall.
NBC has picked up its freshman drama series "Chuck" and "Life" as well as its hit "Heroes" for the 2008-09 season.
All three series will have major re-launch campaigns next year.
"We are thrilled to be bringing back the high-energy dramas 'Chuck' and Life' for next season," said NBC Entertainment honcho Ben Silverman. "Additionally, we will be saving and re-launching our #1 drama and most successful franchise, 'Heroes,' so that it will run in all original episodes in the fourth quarter."
"These pickups are a sign of our confidence in these quality series and will allow the respective producers to get a head start on their creative arc for next season," said co-honcho Marc Graboff. "As a result, they give us a lot to build on as we point to next year's schedule."
And I'm doing the happy Snoopy dance over the return of "Scrubs" after those terrible rumors that series' fans might have to wait for the release of the DVD before we could say our fond farewells.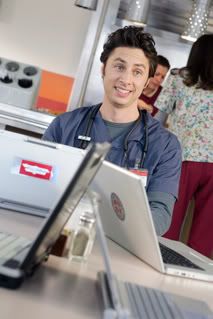 The smiley Zach Braff stars in "Scrubs"
"ER" (Thursdays, 10-11 p.m. ET) also will come back on Thursday, April 10 with new episodes following the complete run of "Lipstick Jungle," which concludes on March 20.
"Law & Order: Special Victims Unit" (Tuesdays, 10-11 p.m. ET) will return with fresh episodes on Tuesday, April 15. "Law & Order" (Wednesdays, 10-11 p.m. ET) resumes with original episodes on Wednesday, April 23. Meanwhile, "Medium" (Mondays, 10-11 p.m. ET) continues in originals.
Specific plans for other NBC scripted series are currently being determined and will be announced later.
The following includes NBC's new spring broadcast schedule denoting new return dates with original episodes for some of its scripted programs:
"Medium" (Mondays, 10-11 p.m.)
Continues current run
"My Name Is Earl" (Thursdays, 8-8:30 p.m.)
Resumes April 3 with one-hour episode
"30 Rock" (Thursdays, 8:30-9 p.m.)
Resumes April 10
"The Office" (Thursdays, 9-9:30 p.m.)
Resumes April 10
"Scrubs" (Thursdays, 9:30-10 p.m.)
Resumes April 10
"ER" (Thursdays, 10-11 p.m.)
Resumes April 10
"Law & Order: Special Victims Unit" (Tuesdays, 10-11 p.m.)
Resumes April 15
"Law & Order" (Wednesdays, 10-11 p.m.)
Resumes April 23