Oh, Simon Baker. You're back exactly where I want you.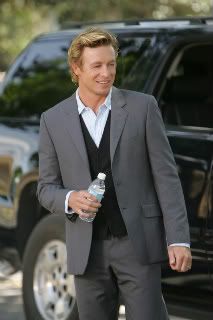 ">
"Red Hair and Silver Tape" — California Bureau of Investigation consultant Patrick Jane (Simon Baker) on THE MENTALIST, Tuesday, September 30 (9:00-10:00 PM, ET/PT) on the CBS Television Network. Photo: Monty Brinton/CBS. ©2008 CBS Broadcasting Inc.
I'll admit it. The last time I saw you, I was a little freaked out. You were playing the creepy Jeff in Smith, which was some kind of ode to bad guys that intrigued critics but never had a shot on broadcast TV. And talking about a shot, it was hard to look at you on the screen after you decided to gun down those surfers who tried to bully you for poaching on their beach turf.
They deserved a nasty smack down, not a sandy grave.
Sure, you played the slightly damaged attorney Nick in The Guardian, but underneath it all you were a good guy who made some mistakes – drug conviction – but you were doing community service helping kids. I could overlook the way you sort of ran roughshod over your young charges. Somewhere, there was a caring guy.
But now, Aussie surfer boy, you've landed smack in the middle of my comfort zone as the witty, slightly twisted crime solver Patrick Jane in The Mentalist at 9 p.m. Tuesday on CBS.
As Patrick Jane, you bring that sassy bravado to the forefront. Patrick admits that he was a charlatan in his former life as a celebrity psychic, hoodwinking the unsuspecting with his ultra powers of observation. Again, what woman could resist a man who actually remembers every minute detail from the shoes you were wearing last week to what she ordered on your first date?
Some might say you are playing a more sophisticated version of USA's Psych, about a slacker who uses his powers of observation to convince cops that he really is a psychic who can help solve crimes. But that's like comparing sirloin to filet mignon. Both are fine, but one is just a few notches up on the quality scale.
Read the rest of this entry »