Just for the moment, we'll disregard the fact that FX's new series "Sons of Anarchy," airing at 10 p.m. Wednesday on FX, might actually help swell the ranks of certain unnamed motorcycle clubs, headquartered (let's say) in Oakland, and running illegal operations (let's say) in California's central valley.
Clubs that might refer to themselves by a name that would reflect Lucifer's fallen status.
Nah, the producers and crew — many of whom came from FX's The Shield — think of their series about a gun-running motorcycle club that isn't opposed to murder and mayhem as sort of a take on Hamlet.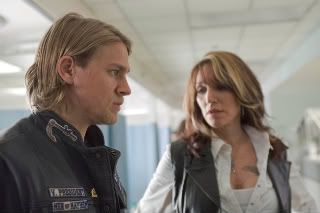 Charlie Hunnam and Katey Segal play son and mom in "Sons of Anarchy" on FX
Charlie Hunnam plays sexy bad boy Jax, who has a bit of the poet in him. He's the Hamlet, with a father who was perhaps murdered by the man who wanted to take over his territory — a man who was also his best friend. That man, Clay (Ron Perlman), took over the gang and married Jax's mom Gemma (Katey Sagal). Gemma's one tough momma who loves her son, yet sees him as a threat and isn't sure how much of his dad is in him.
Like The Sopranos, it's all about family values. But this family mostly values criminal activity, wrapped up in an odd code of honor that allows despicable acts in the name of solidifying the family.
FX proudly claims that this is the first TV series to center on the motorcycle club subculture, although many films have used the theme. That's true — even as HBO is trying to get 1% off the ground despite a lawsuit launched by Hell's Angels leader Sonny Barger — but motorcycles have played an important (if not central) role in other shows. We offer our top-10-bikes-on-TV list:
Read the rest of this entry »
Permalink Comments off