Just for the moment, we'll disregard the fact that FX's new series "Sons of Anarchy," airing at 10 p.m. Wednesday on FX, might actually help swell the ranks of certain unnamed motorcycle clubs, headquartered (let's say) in Oakland, and running illegal operations (let's say) in California's central valley.
Clubs that might refer to themselves by a name that would reflect Lucifer's fallen status.
Nah, the producers and crew — many of whom came from FX's The Shield — think of their series about a gun-running motorcycle club that isn't opposed to murder and mayhem as sort of a take on Hamlet.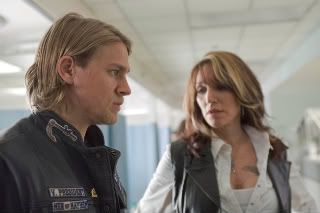 Charlie Hunnam and Katey Segal play son and mom in "Sons of Anarchy" on FX
Charlie Hunnam plays sexy bad boy Jax, who has a bit of the poet in him. He's the Hamlet, with a father who was perhaps murdered by the man who wanted to take over his territory — a man who was also his best friend. That man, Clay (Ron Perlman), took over the gang and married Jax's mom Gemma (Katey Sagal). Gemma's one tough momma who loves her son, yet sees him as a threat and isn't sure how much of his dad is in him.
Like The Sopranos, it's all about family values. But this family mostly values criminal activity, wrapped up in an odd code of honor that allows despicable acts in the name of solidifying the family.
FX proudly claims that this is the first TV series to center on the motorcycle club subculture, although many films have used the theme. That's true — even as HBO is trying to get 1% off the ground despite a lawsuit launched by Hell's Angels leader Sonny Barger — but motorcycles have played an important (if not central) role in other shows. We offer our top-10-bikes-on-TV list:

10. On House, our defective doc opted to show his rebellion — and his defiance of his gimpy leg — by purchasing a motorcycle. Star Hugh Laurie loves tooling around on his own motorcycles, so this was a natural extension.
9. Reach way back to the late 1960s and you'll discover Jim Bronson, wandering hero of Then Came Bronson. After his friend's suicide, journalist Bronson (Michael Parks) gives up working for The Man, hops on his Harley and heads out to see the world — and make it a better place. Lots of hippie mojo, not so much murder and mayhem. The series only lasted from 1969-1970 on NBC.
8. The ultimate motorcycle series has to be CHiPS, which opened each week with a shot of officers Ponch and Jon cruising down that California highway, making it safe for SoCal motorists. Jon (Larry Wilcox) was the nice blond boy sticking to the rule book and only slightly amused by the antics of partner Ponch (Erik Estrada).
7. The Fonz added the hip factor to Happy Days. Fonzie (Henry Winkler) didn't even wear a leather jacket in the first few episodes because the network didn't want to put viewers off. Winkler admits that he never did learn how to ride a motorcycle and jokes that the one scene of him riding one almost resulted in bodily injury to him and others around him.
6. After being framed by a crooked cop for the murder of his wife, Reno Raines hits the highway on his trusty motorcycle as he tries to clear his name while working as a bounty hunter. The syndicated series Renegade lasted from 1992-97 and starred a shaggy-haired Lorenzo Lamas as the unjustly convicted former cop. One of the cheesiest intros of the decade: "Framed for murder, now he prowls the badlands. An outlaw hunting outlaws, a bounty hunger — a Renegade." Whoa, baby.
5. OK, maybe I spoke too soon about the cheesiest intro ever. The short-lived ABC series Night Hawk aired from Jan. 4 to May 16, 1985, and centered on a cop and former dirt bike racer who was chosen for a special project involving a high-tech motorcycle. Jesse (Rex Smith) became a public relations officer by day, crime fighter by night. And the intro? "An all-terrain attack motorcycle, designed as a fighter of urban crime, capable of incredible speeds up to 300 miles per hour and immense fire power." That part alone was enough to power you into super-sleep. But then the kicker: "Only one man, federal agent Norman Tuttle, knows Jesse Mach's true identity. The Man. The Machine. Street Hawk." Hey, at least it gave struggling actor George Clooney one of his first TV roles as a guest actor on episode 2.
4. In Fox's 2000 series Dark Angel, Jessica Alba played a kick-ass genetically enhanced super soldier who rides a Ninja motorcycle like nobody's business. Lasting just 43 episodes (which still air on cable channels like Sci-Fi), the cult hit inspired many woman to grab those handlebars away from the guys.
3. Half man, half vampire — all motorcycle rider. Blade: The Series starred Kirk "Sticky Fingaz" Jones as the vamp-killer Blade, who zipped around on a Harley-Davidson Night Rod. Am I the only one questioning a vampire series appearing on a network called Spike?
2. American Chopper, formerly on The Discovery Channel and now on sister channel TLC, centers on New York's Orange County Choppers, with prickly founder Paul Teutul Sr. and his sons Paul Teutul Jr. and wacky Mikey Teutul. Mikey seems to be more of a lovable loser than a threatening kind of guy, but I don't think Papa Paul would be above slapping someone around who looked at him the wrong way on the highway.
1. My favorite motorcycle is actually a mini-version: the scooter Sasha used by J.D. on Scrubs. Really, what's not to love about a Vespa that drops down a pothole filled with water, gets burned in a ring of fire set up by skateboarders, gets blasted in a police shootout and takes out a line of angry bikers? Love the scooter.