NBC announced Monday "Law & Order" will be back in session on Wednesday nights starting Jan. 2 with a two-hour season opener. The following Wednesday, there will be a double-dose when "Law & Order: Criminal Intent" kicks off the night at 9 p.m. starting Jan. 9.
Joining the "Law & Order" cast for the show's 18th season are Jeremy Sisto as Detective Cyrus Lupo and Linus Roache as Chief Assistant District Attorney Michael Cutter. Cutter reports to Jack McCoy (Sam Waterston) who has been promoted to District Attorney, replacing Arthur Branch (Fred Thompson).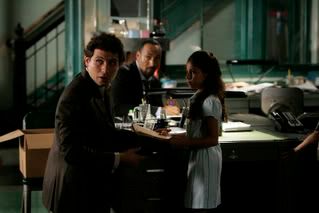 Jeremy Sisto as Det. Cyrus Lupo, Jesse L. Martin as Detective Ed Green — NBC Photo: Will Hart
"The last time Rene Balcer was showrunner of 'Law & Order' we won the Emmy for Outstanding Drama Series. I am thrilled he is back," said Dick Wolf, creator and executive producer of "Law & Order." "Jeremy and Linus bring a new energy to the cast and we hope the return to our longtime timeslot of Wednesday at 10 will bring renewed success to the show, not just from our core fans, but from a new generation of viewers as well."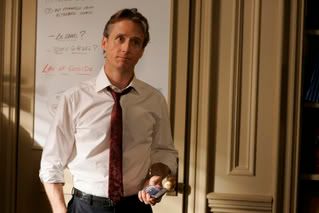 Linus Roache as A.D.A. Michael Cutter — NBC Photo: Will Hart
Detective Edward Green (Jesse L. Martin) and his new partner Detective Cyrus Lupo (Jeremy Sisto) investigate crimes and apprehend suspects under the supervision of their precinct lieutenant, Anita Van Buren (S. Epatha Merkerson). In the second half-hour, the focus shifts to the criminal courts, as Chief Assistant District Attorney Michael Cutter (Linus Roache) and the Executive Assistant District Attorney Connie Rubirosa (Alana De La Garza) work within a complicated justice system to prosecute the accused under the guidance of the newly appointed District Attorney Jack McCoy (Sam Waterston).
"Criminal Intent" will be recycling episodes that aired earlier on USA.
In "Law & Order: Criminal Intent," Detective Mike Logan (Chris Noth) and his partner, Detective Wheeler (Julianne Nicholson), make up the Major Case Squad alongside long-time partners Detectives Robert Goren (Vincent D'Onofrio) and Alexandra Eames (Kathryn Erbe). The two Major Case Squad detective teams split the caseloads week to week. The series takes viewers into the minds of its criminals while following the psychological approaches the Major Case Squad uses to solve the crimes. D'Onofrio ("Men in Black") stars as Detective Goren, an exceptionally bright homicide investigator with well-honed instincts that match up favorably with his criminal quarry. Likewise, his partner, Detective Eames (Erbe, "Oz"), brings an independence and stylish edge to her work that meshes well with Goren.

Alicia Witt as Detective Nola Falacci — USA Network Photo: Will Hart
Alicia Witt ("Vanilla Sky") joins the cast for the first six episodes as Logan's detective partner while Nicholson is on maternity leave.
Eric Bogosian also plays Captain Ross who was rewarded with the Major Case Squad after heading a successful three-year Joint Task Force on International Money Laundering.

Eric Bogosian as Captain Danny Ross — USA Network Photo: Will Hart