Cue the crashing wave.
Fox just shot out a press release today saying that "The O.C." has been canceled. The Feb. 22 season finale will be the series finale.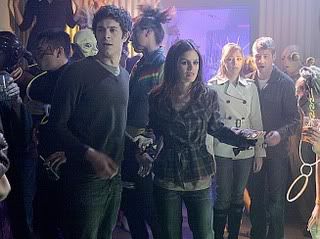 Which is too bad, because the series was spanking good this season. The series suffered from low ratings – what a shock after Fox put it up against powerhouse series "Grey's Anatomy" and "CSI" and the NBC comedy block.
"This feels like the best time to close," creator Josh Schwartz said in a press statement. "We have enjoyed our best season yet and what better time to go out?"
Josh e-mailed to say he's doing "Gossip Girl" for the CW and a spy dramedy for NBC.
"Gossip Girl" is based on the book series by Cecily von Ziegesar about socialite teenagers engaging in sex, drugs and, of course, gossip, on New York's Upper East Side.
"Gilmore Girls" creator and former executive producer is set to write the pilot and Lindsay Lohan is attached to the project, as they like to say in Hollywood.
As for Josh's foray into "Alias" territory, just don't go all Rambaldi on us, OK?