Host Jeff Probst knows that he thinks has worked, and what hasn't worked, on the hit series "Survivor."

(Host Jeff Probst)
"One comes to mind, right away, is the outcasts in Pearl Islands," Probst says of the ideas that didn't work for him. "That's one where we stepped too far. I argued until I had no voice left."
In the Pearl Islands, "Survivors" who were voted out were allowed to come back into the game. That meant that people who could have stayed on longer ended up getting voted out before those who were brought back into the game.
Probst also thinks that the series bailed out too soon on the racially segregated tribes in the last cycle set in the Cook Islands.
"I wish we had a little more guts to stick with it, but I don't run a network, and I don't run `Survivor' so don't know what (else was in play)," Probst says.
So what do you think worked, or didn't work, in other "Survivor" seasons? And more importantly, check out the season premiere of "Survivor" at 8 p.m. Thursday and let us know.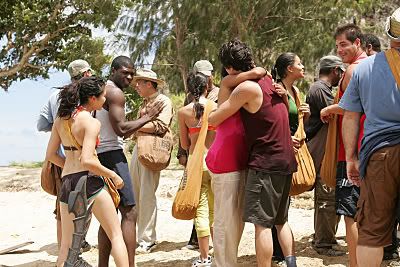 (19 new castaways, (alphabetical) Alex Angarita, Kenward "Boo" Bernis, Yau-Man Chan, Earl Cole, Jessica Deben, Erica Durousseau, Cassandra Franklin, Liliana Gomez, Andria "Dre" Herd, Stacy Kimball, Sylvia Kwan, Mookie Lee, Lisette "Lisi" Linares, James Reid, Edgardo Rivera, Anthony Robinson, Gary Stritesky and Michelle Yi, are set to compete when "Survivor: Fiji" premieres at 8 p.m. Thursday, Feb. 8 on CBS.)
Photo: Bill Inoshita/CBS