I'm not a fan of the "Pussycat Dolls," so I could have done without watching them prance around like the girls at the Bada-Bing! today during the CW's live streaming of their presentation of new fall series.
But I'm pretty excited about the rest of the line-up.
"Aliens in America" was laugh-out-loud funny, about a geeky high school boy with strange parents who decide to take in a hot foreign exchange student to beef up his popularity. Instead, they get a Pakistani Muslim, which opens the series up to some seriously hilarious situations.
The other CW show that looks promising is "Life is Wild," a family drama set in Africa and centering on a blended family and veterinarian dad.
Hey, it's got great scenery, animals and good drama. I'm there.
"Gossip Girls" from the best-selling books and from our old "The O.C." pal Josh Schwartz looks good, and so does "Reaper," about a 21-year-old guy who discovers his parents sold his soul to the devil and now he's a bounty hunter for Satan. It's from Kevin Smith ("Clerks"), so it's got plenty of laughs in it.
The CW also offers up "CW Now," blending news and entertainment and "Online Nation," which features the hottest Web sites,
For those out there still watching "One Tree Hill," it comes back as a midseason show.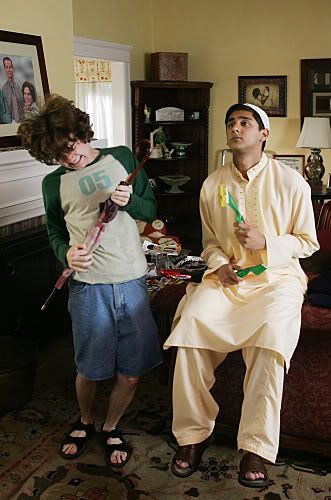 ALIENS IN AMERICA
Dan Byrd as Justin, Adhir Kalyan as Raja star. Photo: Trae Patton/ The CW
Justin is a senstive 16-year-old trying to make it in high school with the help of his well-meaning mom Franny (amy Pietz) and dad Gary (Patrick Breen) and his popular sister Claire (Lindsey Shaw), who is sweetly unaware of how pretty she is. Franny decides to up Justin's popularity by signing up for a hot foreign exchange student who will help Justin fit in. Instead, she gets Raja, a 16-year-old Pakistani Muslim.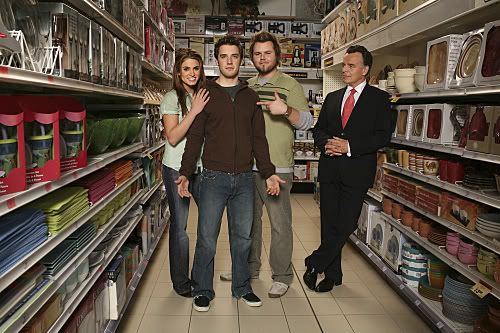 REAPER
Nikki Reed as Andi, Bret Harrison as Sam, Tyler Labine as Sock, Ray Wise as the devil. Photo: Michael Courtney/The CW
For the first 20 years of his life, Sam's parents always let him get by with everything while keeping the pressure on his younger brother Keith (Kyle Switzer) to over-achieve. Turns out that mom (Allison Hossack) and dad (Andrew Airlie) made a mistake and sold his soul to the devil (Ray Wise). Now Satan wants him, and Sam's new job is being his bounty hunter for souls who escaped hell.

LIFE IS WILD
Pictured: (Front row) K'Sun Ray as Chase Clark, Judith Hoag as Jo Weller-Clark, Brett Cullen as Danny Clarke, Mary Mouser as Mia Weller. (Back Row) Andrew St. John as Jesse Weller, Leah Pipes as Katie Clarke, David Butler as Art. Photo: David Bloomer/The CW
Veterinarian Danny (Brett Cullen) feels as if his blended family is falling apart, so he brings his wife Jo (Judith Hoag), his teen daughter Katie (Leah Pipes), 11-year-old son Chase (K'sun Ray), Jo's teen son Jesse (Andrew St. John) and her 7-year-old daughter Mia (Mary Matilyn Mouser) to a lodge in Africa for a year. The lodge is owned by Danny's deceased wife's father Art (David Butler).

GOSSIP GIRL
Pictured: (Back Row) Penn Badgley as Dan, Ed Westwick as Chuck, Taylor Momsen as Jenny. (Middle Row) Leighton Meester as Blair, Chace Crawford as Nate. (Front Row) Blake Lively as Serena. Credit: The CW / Timothy White
No one knows the identity of Gossip Girl, who blogs all about the priviledged prep shcool on Manhattan's Upper East Side. She's the one who lets everyone know that Serena (Blake Lively) is back in town. Her former best friend Blair (Leighton Meester) isn't happy Serena's back. Oh, the drama…
Here's the new lineup:
Monday
8 p.m. "Everybody Hates Chris"
8:30 p.m. "ALIENS IN AMERICA"
9 p.m. "Girlfriends"
9:30 p.m. "The Game"
Tuesday
8 p.m. "Beauty and the Geek"
9 p.m. "REAPER"
Wednesday
8 p.m. "America's Next Top Model"
9 p.m. "GOSSIP GIRL"
Thursday
8 p.m. "Smallville"
9 p.m. "Supernatural"
Friday
8 p.m. "Friday Night Smackdown!"
Sunday
7 p.m. "CW NOW"
7:30 p.m. "ONLINE NATION"
8 p.m. "LIFE IS WILD"
9 p.m. "America's Next Top Model (encore)"