Some people think this new series sucks, while others can't get enough. Where do you stand on it?
I've watched three of the episodes with varying degrees of interest. But tomorrow night should show where "Moonlight" is going.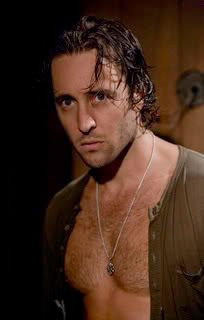 Sunlight's never healthy for a vamp. Mick (Alex O'Loughlin) is injured in his search for a young woman who is believed to be hiding in the desert. Photo: Joel David Warren/Warner Bros.
Remember Mick. Moonlight good. Sunlight bad.
When the scorching sunlight depletes Mick's vampiric ability to heal himself, Beth must rush to help him on "Moonlight," which airs at 9 p.m. on CBS. I'm still on team "Friday Night Lights," but I might just tape this one.
Click here to get a taste of tonight's episode when Beth offers to make the ultimate sacrifice to save Mick's life.