"Scrubs" creator Bill Lawrence admits he might go through some online withdrawals after his series ends this season.
"I think that I have the potential to be one of those desperate people that was involved in a TV show once that still trying to get people to talk about it years after it's over," Bill says during a conference call last week. "Yeah, hey, did you guys remember that episode of Scrubs when…. No. You know what? I'm desperately hoping that I, you know, get to do something again that people are hopefully interest in. "
Bill says he's had a constant phobia about doing more TV because he's gotten so lucky twice, once with "Spin City" with Michael J. Fox and then again with "Scrubs."
"Having such a positive experience again are so slim because there's so many intangible things that are out of your control," Bill says. "I'll probably just continue to be, you know, some desperate guy that surfs the internet under a fake name to see if anybody is talking about stuff that he used to be involved in. And then, you know – I'll be the guy that types, that Bill Lawrence was a really funny writer. And when someone says, who are you, I'll immediately exit the internet."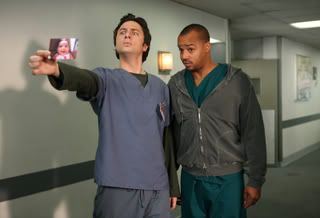 Zach Braff as J.D. and Donald Faison as Turk
But for right now, Bill's just concerned about getting on with the final season of "Scrubs," which returns at 9:30 p.m. Thursday on NBC.
Bill says he always promised Neil Flynn, who plays The Janitor, that by the end of the show he'd have a name and a girlfriend. On Thursday's episode, we get a peek at the girlfriend.
"He's the one character that hasn't ever had a romantic interest," Bill says.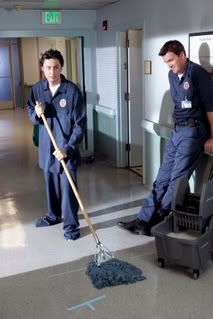 J.D. and The Janitor
In fact, The Janitor began as a figment of J.D.'s imagination.
"I always thought this show was going to last for one season, so `Fight Club' just happened," Bill explains. "Then the second year, Neil Flynn's like, 'I'd like to talk to some of the other actors.' All right, whatever."
Bill says he made a slight miscalculation when he killed off popular character Laverne, the opinionated Christian nurse last season.

Aloma Wright as Nurse Laverne
"I would never take work away from an actress that we consider part of the family. We thought last year would be the last season. So when I killed Laverne, it was because we basically said 'hey, what's a good, dramatic arc for the end of the year since we're kind've ending up the show,' " Bill says.
But then he discovered the studios were giving him one more season.
"So I promised her that she would come back. I don't want people to get mad at me," Bill says. "She returns as a nurse name Shirley. She looks slightly different but she still looks like the same actress. But the only thing we're doing is that only Zach's character thinks the two of them look alike."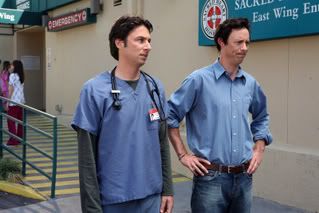 Zach Braff and Tom Cavanagh
Also coming back to the show this season areTom Cavanagh, Elizabeth Banks and Scott Foley.
"People that our nerdy fans will care about, you know, are little kind of secondary characters named like Hooch and Dr. Zeltzer. And, you know, all these people that we think have made kind of an imprint on people in the past," Bill says. "We're trying to get everybody their last hurrah."
Zach Braff says he has campaigned every season to have David Cross come on as his "Arrested Development" character Tobias Funke.
Which isn't going to happen.
This season will, however, have a big musical episode, a fairytale based on "The Princess Bride" and directed by Zach.
"You know, every year we choose one episode to spend a whole lot of money on and try to be our showcase thing," Bill says. "Zach's the village idiot and Sarah's the princess. And, you know, the Janitor is a giant. And Todd is the Fairy Todd Something. So, you know, I think that he will be continue to be ambisexual and never really sure what he is, you know. But will (The Todd) ever find love? I think in Todd's head he's very happy – that he has found it."
What about J.D. and Elliot? Will they end up together?
"If you go on to our fan sites there's a lot of people that want them together and then there's a lot of people that say that's not what this show is about. And so they don't want them together," Bill says. "And what I think – I think the answer is right in the middle, which is we pride ourselves – this show was never a will they or won't they show, you know? It was not Ross and Rachel or, you know, Moonlighting – you know, are these characters ever going to end up?
And I think that if we were to end this series on, you know, Zach going to the airport to keep Rachel – or to keep Elliot, you know, from flying away… everybody would feel cheated, you know, because that's not, you know, what this show has been about. It's been about all the relationships. That being said, you know, Zach and Sarah as actor and actress, have made people invested in this.
So I am going to resolve it, but I'm not going to make that the end of the series. I think that it'll happen before people expect it to happen. I think I put a lot of clues what I'm going to do along the way."

Dancing around the issue is Sarah Chalke and Zach Braff as Elliot and J.D.
Zach says if he had to pick acting or directing, he'd pick directing.
"I enjoy acting a lot and I love – there's nothing that makes me happier in life than making people laugh. But I really like the – I find that directing asks so much more of me because you get to – you have to be a little bit of a writer, a little bit of a photographer, a little bit of a, you know, a set designer," Zach says. "And I just love working with lots of creative people. So when you direct something, you hire all these really creative people and artists, and actors. And then you're sort of the conductor to that orchestra. And I really, really love doing that more than anything.
Zach says after he came back from selling his independent film "Garden State" at Sundance, Bill made sure he wasn't taking himself too seriously.
"(It was) the highlight of my life and Bill wanted to make sure that I hadn't gotten too cocky. So the first scene back was me in full clown make-up getting sprayed with seltzer bottles by the Janitor," Zach says. "That's when I knew I was a success."
So it's about time in the conference call when The Question comes up.
What's on your iPod now, Zach?
"Well I'm obsessed with a guy named William Fitzsimmons, who is kind of breaking out. A woman named Ingrid Michaelson, who is kind of breaking out because she has a song on an Old Navy commercial, but she's a friend of mine and she's really great," Zach says. "And another guy I'm listening to is a guy named Jay Clifford who used to be the lead singer of the band called Jump Little Children and now he has his own solo album. "
Back to the real questions, like Bill paying back the fans. Like putting out the number for Turk's phone, which they still answer occasionally.
"There's a weird thing going on right now in which the show has become very big overseas and, you know, one time a group of Europeans came here and they were taking pictures of the set. And I let them on the set, you know, just to wander around and see the actors," Bill says. "And somehow online they got it around that hey, if you're visiting America from a foreign country, the Scrubs set will take you around and let you meet all the famous people.
So there's odd packs of Europeans asking me weird questions about the show here on a daily basis."
Bill loves it when someone asks questions like, when did Ted lose his hair?
(He started losing it in eighth grade.)
But as much as he loves everything to do with "Scrubs," don't expect a reunion show down the road.
"We'll do a reunions in real life, you know, because we actually enjoy each other's time and seeing each other and hanging around," Bill says. "But I don't have the need to get everybody back on television again."
Zach says this series has changed his life.
"It's like winning the lottery in more ways obviously financially, but I mean – what I mean is like getting to be on a television show for seven years where you really respect what you're doing and you respect who work with and you're laughing a lot," Zach says. "I'm going to dinner on Friday night with Donald and Sarah. I mean we all hang out. We're all really close. I think that when it's over, it's really going to hit us hard."
So, I've got to ask since both his mom and brother live in the SF Bay area if he'll be coming up here soon for any special projects.
Zach: "If you invite me for dinner, I'll be there."
Me: "Really?"
Zach: "I am not averse to accepting a free meal from a stranger."
You're on, Zach.