It's the first night of "Project Runway" and I'm absolutely giddy with excitement.
Finally, once a week I can wallow in the fashion industry, dish with fashion gurus like Dino-Ray Ramos. Yes, Dino-Ray and I did a SueTube on this season and we're just not sure how it will all turn out. All the designers already have their own lines, many of them have already worked with stars.
Still, you can't take away that Tim Gunn pixie dust.
We do have three locals to root for this season, including Chris March of San Francisco. March is a freelance costume designer living in New York, and his client list includes Cirque du Soleil, Madonna and Thierry Mugler. OK, I had to Google Mugler, but I know the other two. But locals would know Chris from his work on "Beach Blanket Babylon."
We'll see if this campy costume guy has some hot fashion ideas. I really like him, especially that wicked little giggle and I think I'll pick him as one of my top-five choices.
In Wednesday's episode, we felt it was a bit mean to show the designers racing across the park to get first dibs on some pricey fabric for the first challenge.
Poor Chris came huffing and puffing in last place and his material choices were limited, even though he claimed everything that would have been his first choice was still available. Scary.
But the outfit proved to be quite lovely, and he landed firmly in the middle of the pack.
San Francisco native Simone LeBlanc likes to experiment with fabric but she fell flat with her boring design and even less inspired outfit.
Then there's Jack Mackenroth, who graduated from UC Berkeley with a double degree in Fine Arts and Sociology, attended Parson School of Design, which Gunn came from before switching to Liz Claiborne recently.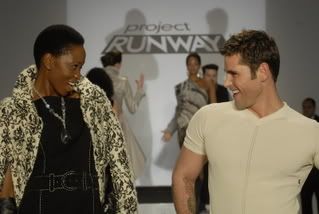 Camilla, Jack at the fashion show for the fans on Nov. 6 at Lincoln Center in New York, NY — Bravo Photo: Barbara Nitke
Jack also landed in the middle.
The top three designers of the night:
We really like Christian, who is the youngest at 21 and probably one of the most promising of the lot. His asymmetrical outfit caught the eyes of the judges, although Tim seemed to try to warn him off when he critiqued the outfit earlier in the show.
Rami's outfit was dubbed "stunning" by Tim, but we thought it had too much draping and knots. The third member of the top-three team was Victorya, who seems a little insecure. Her black dress with the big silver flower was kicky and fun. But we agree with Michael Kors, who called it a little "mother of the bride."
Michael also pointed out that it would be hard to hail a cab with the straps across the top of your arms. Victorya came back with a line about bleeding for fashion. Um, maybe.
In the bottom of the heap was Elisa, who designed a floaty little blue dress that I liked, except for the ghastly train she put behind it with every piece of material she could snag. It was a ridiculous thing to do, and her model could have been killed from tripping over it.
Ricky did a little signature baby doll dress that was kind of cute for someone visiting the Playboy mansion.
And poor Simone. Our local girl was the first to be cut from the squad, and she fully deserved her dismissal. The dress she designed looked like something out of my 8th grade home ec class.
Well, maybe not that bad. My teacher told me she'd give me a C in the class if I promised never to use her sewing machines again. I don't know how that thread can get so gummed up in there…