"What was it they had right before the Titantic sunk? Oh, yeah. Panic."
Steven nailed it. Tonight, the designers were in full-on freak mode as they struggled to make something snappy in men's wear for "Today" correspondent Tiki Barber. The designers admitted they didn't know much about designing for men and that was an understatement. The clothes overall were horrible.
Even the tonight's top designers shouldn't be patting themselves on the back. It was more about judging the best among the mediocre. There was a sea of barely wearable, with the bottom trio justifiably ashamed of what they had created.
"This challenge is going to be so difficult to judge because there's going to be so many things that are so jacked up," Christian said, summing up the fashion disaster that was tonight's show.
True words, Christian my friend.
U.C. Berkeley grad Jack won the challenge with an interesting stripe pant and shirt combo. He wisely decided not to try to make a vest or jacket to go with it, because he knew he didn't have the time or the expertise to pull it off.
And speaking of pulling it off, when he couldn't figure out how to make a pattern for the pants, he pulled his own pants off and turned them into a guide to making a pattern. Cheater? Maybe. But the judges decided to give him the win anyway.
Actually, I thought Kit's design was better, but Tiki seemed to like the idea of parading around in stripes.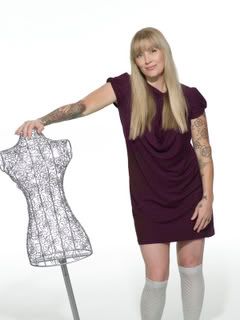 Sweet Pea in her less haggard pre-taping days
Sweet Pea dodged a major bullet, probably only squeaking out because of her previous work. Her shirt's collar went wildly out of control, with too much fabric slopping around the neck. So what did she do? Sweet P put a tie on it. That's like the days when pregnant women put a big bow on their blouses so no one would notice the huge basketball they were carrying in their tummy.
The tearful Ricky blubbered away when he got a pass for a boring suit held together with pins and good thoughts.
But at least he didn't drape fabric around his model's neck to hide the fact that he wasn't wearing a shirt under his jacket. Tiki's wife called the jacket very "Members Only" – a dated throwback that had problems all on its own without any help from the drapery.
And before her model could even leave the dressing room, Carmen was sewing the waistband where a button would have worked so much better. And safer. There was no doubt who was getting Auffed tonight:

Carmen — Bravo Photo: Barbara Nitke
And the loser is….