"I hate you, Nate. I hate you."
Yep. That's the sound of Jennifer AKA "It's not fair." This is the same woman who complained a couple of weeks ago that it wasn't fair that she and Nate came in second when the team that came in first had won before.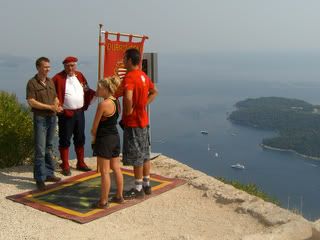 Check out the body language of dating teammates Jen and Nate (far right) when they meet Phil (left) at the final check point on a hill over looking the city of Dubrovnik
Jen, it's a game. There are winners and losers and you, my not friend, are a loser. While you may think Nate hasn't been good to you, there's an entire "Amazing Race" audience who can't believe he didn't slap you with that oar.
For those who missed the episode, the teams had to travel to Croatia, which turns out to be a beautiful not-to-be-missed travel destination. When the teams get to be too much, you can always put Jen on mute and just enjoy the pretty places.
Getting to Croatia proved to be the downfall of the brother-and-sister team of Azaria and Hendekea, who have placed first in three legs of the race. As "Race" fans know, travelers must book economy flights and it was just a matter of time before someone accidently booked a business class ticket. That's what happed to the Double A's, and by the time they went back and exchanged their ticket, they were on the last flight out to Dubrovnik.
A game of musical ticket counters resulted in the teams splitting off and using a number of different connecting flights to Dubrovnik. Once they landed, their first task was a road block that didn't seem all that difficult. A member had to go to a pile of rocks and pick the one that would fit into the rock wall.

Azaria choosing the right stone that will fit into a corresponding space on a rock wall.
That task completed, the teams then zip-lined across to a tower. There, they had to decide to either zip-line into the harbor, swim to a row boat and then row around the harbor to find their next clue or repel down the side of wall, climb up another wall on a rope ladder and then find their way through some complicated streets to find the clue box.
Most decided to row, which proved to be a good strategy of the father-daughter team of Ron and Christina, who finally won a leg. The two are actually working well together now that Christina has learned to communicate with her bossy dad.
While we don't have any strong favorites in this race, our pick for the most interesting would certainly be the goth couple Kynt and Vyxsin. Didn't you just love their matching pink cowboy hats? Yee-haw indeed. But we were a little concerned about seeing harsh words between them in the previews for the next episode. Kynt actually raised his voice.

Go, Goth, Go. Vyxsin climbs the city wall of Dubrovnik. Photo: Chris Castallo/CBS
For some reason, Team Lazy (Nicolas and grandpa Donald) just barely squeaked by, so they live to race again.
Meanwhile, we're also stuck with hater Jen for yet another episode. But since the show is pre-empted for this Sunday ("Survivor" finale), we won't have to deal with her for two weeks.