After watching the series finale of "Jericho," I felt a little bit like I'd just watched one of those quick catch-ups like the "Lost in 8:15" or the "Battlestar Galactica" update.
You just knew that the producers crammed at least one season, possibly two, into that fortysomething minute episode. Hawkins finally got the bomb evidence to Texas, the pivot point in future history of this nation. Only Texas could change the balance of power, and get rid of the corrupt Cheyenne government.
Beck finally saw the light, and we could see some sparks flying between Beck and Heather (Sprague Grayden). We can only imagine how that could turn out.
We left on the verge of a massive civil war, but with Texas on the side of might and right.
It left me wanting more, yet satisfied in knowing where the series was headed.
Which I'm hoping is at least a couple of made-for-TV movies on the Sci Fi Channel.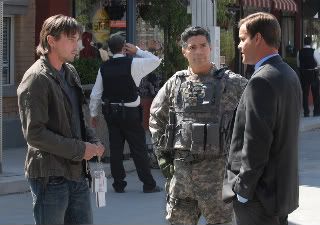 Jake (Skeet Ulrich, left) and Beck (Esai Morales, center) on the Feb. 19 episode of "Jericho" on CBS. Photo: Cliff Lipson/CBS ©2007 CBS Broadcasting Inc.
And here's a little Skeet for you, back when he was giddy over coming back because of the fan's support: