When last we saw the lovely Mick, he had become mortal and no longer feared the garlic.
Yep, our favorite (current) TV vamp can look at himself in the mirror and drink orange juice instead of a real Bloody Mary. But just how long will this last?
Oh, you know the answer. Really. You can't have a vampire show with a used-to-be.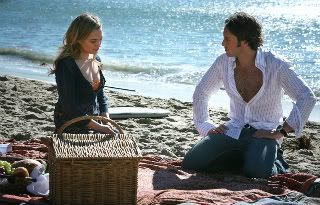 What's this? Mick hanging out in the sun and eating a picnic lunch?
Mick (Alex O'Loughlin) enjoys what time he has left as a human with Beth (Sophia Myles), on "Moonlight" at 9 p.m. Friday April 25 on CBS. Photo: Adam Taylor/CBS
The episode is campy and over-the-top, so what wasn't to love about it? We even get a vampire smack-down going at the end. If you want some backstage info, check out this CBS video: