Wacky Paula Abdul may be getting some competition on "American Idol."
Never the most stable of people, Paula has reigned as the queen of "American Idol" until now. Fox announced there will be new judge in the house: songwriter Kara DioGuardi.
Never heard of her? Well how many people knew who Simon Cowell was before he sat down on the judges' panel? We'll have to see if Kara's got the charisma. Or, more importantly, can talk in coherent sentences.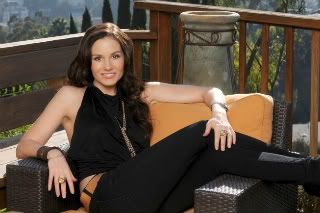 New "American Idol" judge is songwriter Kara DioGuardi.
2007 FOX BROADCASTING CR: FOX

Grammy-nominated songwriter Kara now sits alongside Paula, Simon and Randy Jackson at the judges' table and will use her background as an award-winning songwriter and producer to praise or critique the wannabe hopefuls throughout the competition. The eighth season of AMERICAN IDOL premieres January, 2009, on FOX.
"We are turning the heat up on 'Idol' this year and are thrilled to welcome Kara to the judges' table," said creator and executive producer Simon Fuller. "She is a smart, sassy lady, and one of America's most successful songwriters. We know she will bring a new level of energy and excitement to the show."
Not that the producers are trying to usurp Paula.
"We had originally intended for AMERICAN IDOL to have four judges," said executive producer Cecile Frot-Coutaz. "We've seen from our international series that having a fourth judge creates a dynamic that benefits both the contestants and the viewers."
Mike Darnell, President, Alternative Programming of Fox calls Paula "an island of consideration and gentle criticism between Randy and Simon, offering her invaluable expertise as a performer…with Kara by her side, Paula finally has some back-up and now there is going to be a lot more 'girl power' on the show."
Umm. Maybe.
The press release says that Kara has worked with award-winning artists including Kelly Clarkson, Christina Aguilera, Gwen Stefani, Celine Dion, Faith Hill, Carrie Underwood, Santana, and Pink. Scores of major recording artists including Britney Spears, Avril Lavigne, Pussycat Dolls, Miley Cyrus, The Jonas Brothers, Natasha Bedingfield, Jewel, Ashley Tisdale, Katharine McPhee, Taylor Hicks, Bo Bice, Clay Aiken, Ashlee Simpson, Hilary Duff, Jessica Simpson, Kylie Minogue, Enrique Iglesias, Nick Lachey and Marc Anthony have also released DioGuardi's songs.