Stephanie Edwards says she believe everyone left on "American Idol" deserves to be there.
Even Sanjaya Malakar, who has become the darling of www.votefortheworst.com and has Howard Stern urging his listeners to vote for him in order to tweak the "Idol" results.
"None of the contestants ever talked about (the Sanjaya controversy)," Stephanie says after she was ousted from the competition last week. "I believe everyone in the top 10 deserves to be there. We are all good singers, now it's just about America voting for their favorites."
But when pressed, she admitted that while she wasn't surprised she was in the bottom, she never expected to see Chris Richardson standing next to her.
"I kind of figured I was going to be in the bottom, but then I saw Chris and thought this is a crazy bottom two," Stephanie says. "I'm OK. Now."
Getting the boot means Stephanie won't get to go on tour because only the top 10 go. But she's able to record a track on the "American Idol" CD.

STEPHANIE SINGING ON TUESDAY NIGHT
For us, the shock still hasn't worn off over seeing Stephanie and Justin Timberlake-like Chris standing in the final 2 last Wednesday while Sanjaya and other lesser lights were safe.
We believe Haley Scarnato's barely there silk blouse promising a potential wardrobe malfunction may have saved her through this round.

HALEY PUT IT ALL OUT THERE ON TUESDAY
Singers really put it all on the line because making it into the top 10 meant tour time and a great potential for getting a recording deal.
Stephanie says she still hopes to get a recording contract, and that the one thing she wishes viewers could have seen was her goofy side.
"I'm not as mature as they think I am, but I guess I seemed mature," says the gracious 19-year-old. "(The audience) didn't get to see the goofy side of me because (`American Idol') never showed that."
And she says that she's actually glad that the show was running long, so the television audience didn't have to see her crying as she performed for the last time in front of the judges, the other contestants and the studio audience.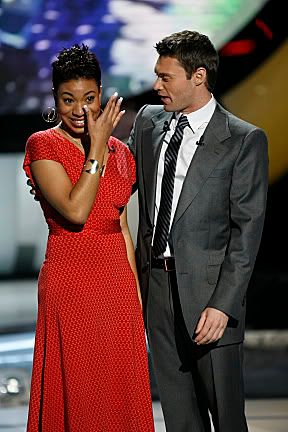 STEPHANIE BEFORE SHE SANG FOR THE STUDIO AUDIENCE
Stephanie, you were a class act and we'll miss you. But we don't think this is the last we'll hear of you.