Now we know why Desmond likes to call everyone "Brother" on "Lost."
Turns out that after a drunken spree to avoid marrying his girlfriend Ruth, Des wakes up to find Brother Campbell in his monk frock ready to take him away to monk-land.
Sure he's found his true calling, Des is ready to take on the robe when Ruth's brother finally tracks him down and punches him in the snout. Des gets smashed on monk wine and gets booted out of the monkery. But not before we have a little scene between Des and Brother Campbell, who tells him he's destined for greater things.
On Brother Campbell's desk is a picture of the brother and Ms. Hawking. If you remember, she's the soothsayer who was working at the store where Desmond goes to buy an engagement ring for Penny during his flashback/dream after he turned the fail-safe key.
She knows all about his timeline, which went wonky after he turned the key. She tells him he has to stay the path or else everyone's going to die. Besides, she tell him, fate has a way of "course-correcting," which is why Des seems destined to be saving Charlie for the rest of his island stay.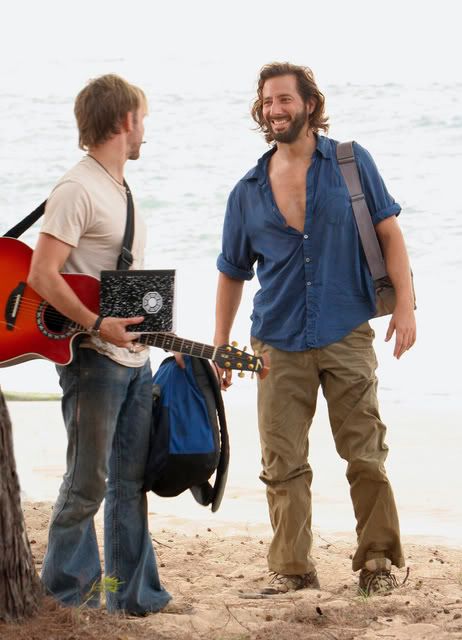 CHARLIE AND DESMOND
But now we're wondering about the girl who parachuted out of the helicopter (???) into the forest. Des thought for sure it was his beloved Penny, but we don't know this girl.
But she knew Des. She mumbled his name right before she passed out, or died.
Do we have a new person on the island? Probably not. But we do know there is a way on and off the island if the castaways only had a submarine…or a helicopter.
Next week looks great with a Sun-centric episode.