Sanjaya says he's looking into getting a bodyguard.
Can he really be that popular? Or that deluded?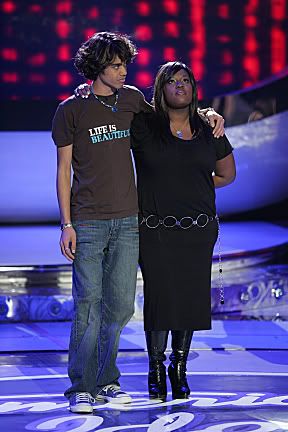 SANJAYA AND LAKISHA IN BOTTOM 2
The kid came across as a naive young man who says he got his GED as a sophomore and thinks of his time on "American Idol" as his "junior and senior year in high school."
"It was my mom's idea for me to get my GED," Sanjaya says in a teleconference with journalists today. " I got into a little bit of trouble in school and didn't do my homework. It was a horrible habit that I had. I just wanted to move on and focus on my music."
And he says that he thinks that Howard Stern and Web sites like votefortheworst had little impact on him.
"I don't think (they) had enough people voting for me to make a dent in anything," Sanjaya says. "The reason why I'm here is solely because of the support from my fans."
So why did he get the boot this week?
"Honestly, I'm not a country singer and I didn't have enough really strong performances for people to forgive me," Sanjaya says. "LaKisha had enough strong performances to get her through. So that's what got me this week."
Sanjaya, whose father is a construction worker, says he still wants to go to college at the Berklee School of Music some day, but right now he feels is the time to focus on his career and " `American Idol' was a great way to do that."
The 17-year-old says the only time he felt he was in over his head was during Hollywood week.
"That was completely intense. I had my sister there and she really supported me," Sanjaya says. "I just wanted to get past that."
He says it was surreal for him to become a cultural phenomenon. And he still isn't sure what to make of it.
"You just don't have the slightest idea of the capacity of this show and the impact of this show," he says. "Once in a while, you get inklings."
"I had no idea," he says. "It seems kind of unnatural. I'm just a guy from Federal Way. It's crazy."
He says he liked the skit "Saturday Night Live" did on him, and believes you have to be able to laugh at yourself.
Which brings us, of course, to Simon Cowell.
"I think he had gotten to a point where I hadn't fulfilled the potential (he thought I had in the beginning) and didn't think I belonged there, which is OK," Sanjaya says.
Sanjaya says he's looking forward to being part of the season finale and to go on tour. After that, he'll be looking at opportunities in acting, modeling and perhaps even Broadway.