Coming to a country near you soon: The cast of "Heroes."
Starting on Sunday, "Heroes" tries its boldest exploit yet when a dozen cast members travel to eight countries around the world in eight days celebrating the launch of "Heroes" Season One DVD and HD DVD on Aug. 28 and hyping the second season premiere on Sept. 24.
"The message of 'Heroes' has always been about our world being a completely inter-connected place and this world tour is a celebration of that spirit," says Pittsburg native and "Heroes" creator Tim Kring. "We're all very excited to embark on this adventure next week and eager to hear from fans everywhere."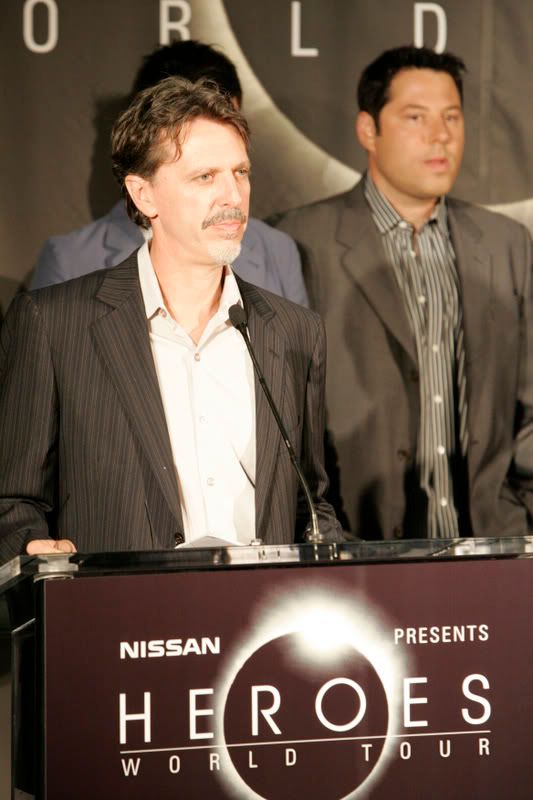 TIM KRING
The tour has been split into three legs with four cast members traveling to each destination. Here you go:
EUROPE
-Munich (8/26-8/27
-Paris (8/28-8/29)
-London (8/30-9/2)
Cast Members: Jack Coleman ("H.R.G."), Hayden Panettiere ("Claire"), Adrian Pasdar ("Nathan"), and Milo Ventimiglia ("Peter") with executive producer Dennis Hammer
ASIA
-Tokyo (8/26-8/28)
-Hong Kong (8/29-8/30)
-Singapore (8/31-9/2)
Cast members: Greg Grunberg ("Matt"), Ali Larter ("Niki), Masi Oka
("Hiro"), and Sendhil Ramamurthy ("Mohinder")
NORTH AMERICA-
-New York City (8/27-8/29)
– Toronto (8/30-9/1)
Cast members: Noah Gray-Cabey ("Micah"), James Kyson Lee
("Ando"), Zachary Quinto ("Sylar"), and Dania Ramirez ("Maya") with co-executive producer/writer Jeph Loeb and acclaimed graphic novel artist Tim Sale ("Batman: The Long Halloween")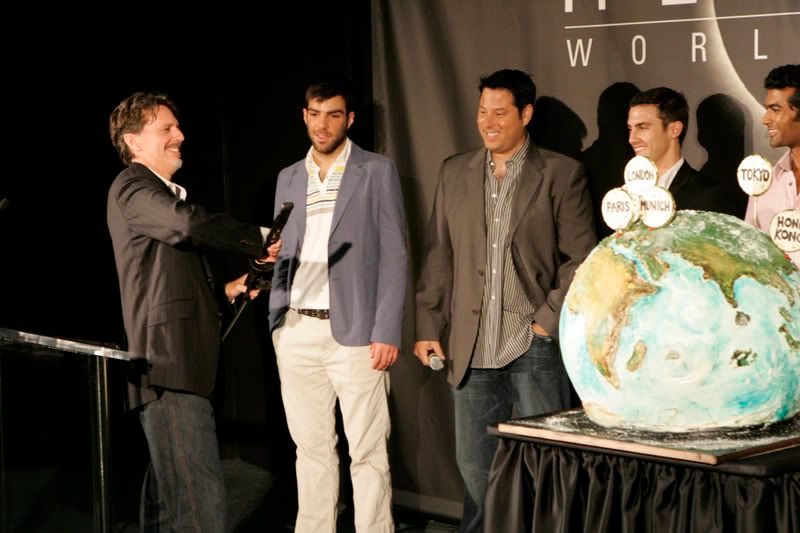 Pictured: (l-r) Tim Kring, Zachary Quinto, Greg Grunberg, Milo Ventimiglia, Sendhil Ramamurthy — NBC Photo: Chris Haston
One highlight of the North American leg will be the appearance of cast members Gray-Cabey, Lee, Quinto and Ramirez along with artist Sale and co-executive producer Loeb at the NBC Experience Store in New York City on August 28, beginning at 9:00 a.m.
Fans can visit the store and participate in signings of the "Heroes" Season One DVD and HD DVDs and other show merchandise on the floor.
Later on Aug. 28, Loeb and Sale will also appear at Midtown Comics Times Square, a popular local comic book and collectibles store, at 4-6 p.m. for a special autograph session for fans.
The "Heroes" Season One DVD will be an elaborate seven-disc set loaded with bonus features, including 50 deleted scenes and the 73-minute never-aired version of the pilot episode.
The HD DVD offers a web-enabled Download Center that allows
users unique access to exclusive online content, as well as other
groundbreaking features such as the Heroes Abilities Test, The Helix Revealed, Character Connections and Picture-in-Picture Commentary.
Immediately following the autograph session, the stars will join with
The Conservation Fund in a ceremonial tree planting to highlight the carbon zero "Heroes World Tour."
Next spring, the fund will plant 188 trees in a Texas wildlife refuge to offset the tour's carbon footprint, including the emissions that will result from the air and auto travel, as well as hotel stays. As the trees grow, the new forest will safeguard the habitat for wildlife and trap more than 250 tons of carbon dioxide.
The green message of the "Heroes World Tour" will be an important aspect of the campaign. Special limited edition green t-shirts, featuring art by Tim Sale, have been created for the "Heroes World Tour" and 50 percent of the sales proceeds will be donated to The Conservation Fund.
Ten percent of all "Heroes" merchandise sold at the NBC Experience
Store on Aug. 28 will also be donated to The Conservation Fund.
Meanwhile, in Hong Kong, STAR TV is sponsoring a "Heroes: Save the World Party" in conjunction with the World Tour to honor local heroes tied into their local CoolChange Green initiative.