What's more painful that watching Jean-Robert tear off his drawers in a challenge?
Seeing emaciated Courtney walking around the jungle like a skeleton. She didn't have much meat on her to begin with, but she's gotten even worse as the show has progressed. But she's getting our vote for the next one booted out of Fei Long.

Todd Herzog and Courtney Yates, of the Fei Long tribe, during the SURVIVOR: CHINA, Thursday, Oct. 11
Out pick for next out in Zhan Hu is Sherea "I'm saving myself for the challenges" Lloyd. The fourth grade teacher hasn't exactly been a whiz at the challenges, and unless she picks up the pace, she's going to get her torch snuffed.

Miss Attitude herself, Sherea Lloyd
Next week, Jaime and Erik admit to a mutual attraction as a romance blossoms. A tribal switch leads to chaos, tears, fears and cracks in former alliances.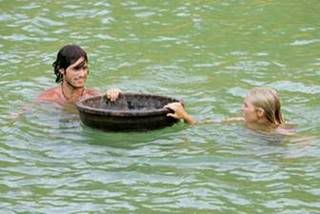 Erik and Jaime sneak a moment
And if you missed the CBS video of "Survivor:China" base camp: