Time to roast your virtual chestnuts over an open fire, TV style.
With holiday music playing in the background, "Your TV20's Yule Log" airs from 5 to 9 a.m., 10 a.m. to noon and 1 to 3 p.m. on Christmas day. The Neiman Marcus Adolphus Children's Parade airs at noon.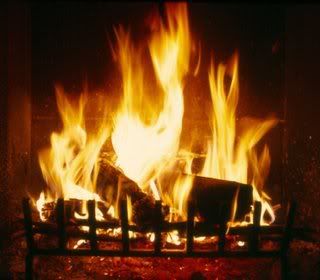 The Yule Log should put you in the holiday spirit. And if the WGA strike continues, it may start filling in the blank screens in January.
Independent Bay Area TV station KBWB-Channel 20 has the distinction of being the first West Coast station and second in the country to broadcast the burning of the Yule log. The tradition was started in the 1980s by that wacky owner Jim Gabbert to fill Christmas air time.
(He also had these crazy parties that he aired at night, but that's another story).
For about 15 years, the TV burned brightly until the flame was doused.
"Our viewers have been asking about the original TV20 Yule log for years now," says TV20 President and General Manager Craig Coane. "It was time to give the viewers the tradition they've been asking for."
What makes this Yule log unique is that it isn't a loop, but an actual burning fire filmed over a four hour time period. Adding to the kitchy charm is the occasional anonymous arm adding logs and a cameo from Santa's boots. The video was shot in the home of "Paul from the Diamond Center," a popular local personality.
Of course, TV20 isn't the only Yule log in town. The Holiday Log returns to Channel 36 from 9 a.m. to noon on Christmas Day. No word on whether we'll get any arm or boot cameos.