OK, I'm sensing a need for some picket fence chat time. We know there's only one episode of "Desperate Housewives" in the can, and that one according to an inside source, will answer most of the cliff-hanger questions when it airs on Jan. 6 on ABC.
But after that, we're going to have to face the fact that there won't be an end of the strike before January and we'll all be facing a very bleak winter without new episodes of DH.
So what's a fan to do?
Let's hark back to the baseball strike of who-gives-a-crap, when baseball fans were forced to live without the game. They decided to start fantasy baseball leagues. Playing off the notion, I say we form a fantasy TV League for Desperate Housewives.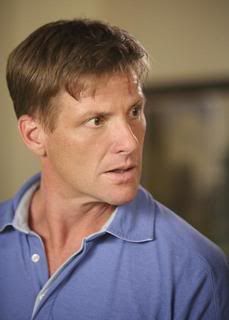 Tom, say you aren't gone! We'd be "Desperate Housewives" indeed if that's true.
We'll all put in our thoughts as to what we think happened. Did Tom and the kids perish? Did Ida go to the cat house in the sky? What about Carlos? I think that Victor biffed it, primarily because he got that new gig on AMC's hit series "Mad Men" playing the head of a New York ad agency.
Oh, and I base it on the fact that he got staked like a vampire.

Looks like Victor's bit the big one on "Desperate Housewives"
OK, let the fantasy begin. Who do you want to be gone? Who do you want to see back? And better still, how would you like to see the season continue?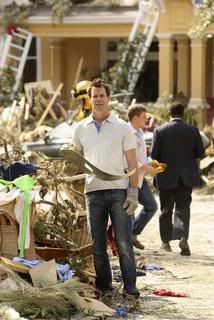 Well, at least the hideous fountain is now a moot point on Wisteria Lane as Bob (Tuc Watkins) surveys the post-tornado damage.
Photos by ABC/CRAIG SJODIN