Maybe it's the threat of a writer's strike, which could be happening as early as Nov. 1, but the networks seem to be giving their stamp of approval early this season.
ABC previously announced a full season pick-up of "Grey's Anatomy" spin-off "Private Practice," which has consistantly hit the No. 1 ratings spot for new fall shows.
CBS' "The Big Bang Theory" is the first new fall comedy to get a full season pick-up order. The network also gave their solid drama "The Unit" a full season order as well.
And dashing off into a tangent, "Scrubs" creator Bill Lawrence said yesterday that "The Unit" co-star Scott Foley may be back on board for the comedy's final season if his schedule allows.
"Bang" is kind of growing on me. Johnny Galecki and Jim Parsons as Leonard and Sheldon make the perfect odd and odder couple with their geeky, Cal Tech personalities. Of course, you have to have the dumb blonde, played by Kaley Cuoco. Simon Helberg and Kunal Nayyar round out the cast as Sheldon and Leonard's two best nerd herd pals.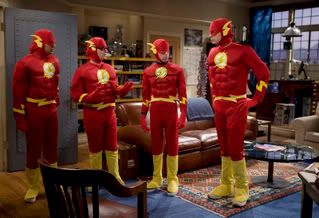 Leonard (Johnny Galecki, pictured second from left), Sheldon (Jim Parsons, pictured far right), Wolowitz (Simon Helberg, pictured second from right) and Koothrappali (Kunal Nayyar, pictured far left) undertake a challenging and dangerous experiment, attending the Halloween party being thrown by their hot neighbor, Penny (Kaley Cuoco, not pictured) on The Oct. 29 episode. Photo: Ron Batzdorff/Warner Bros.
As part of the CBS Monday night comedy block, "The Big Bang Theory" from Chuck Lorre, who is also responsible for "Two and a Half Men" that airs afterwards, has been averaging 8.97 million viewers.
"The Unit" is averaging 11.44 million viewers. Tuesday's episode posted the best ratings – 3.1/08 in adults 18-49 and 4.2/09 in adults 25-54 – since February.
"The Unit" stars Dennis Haysbert, Scott Foley, Robert Patrick, Regina Taylor, Max Martini, Michael Irby, Demore Barnes, Abby Brummell and Audrey Marie Anderson. David Mamet, Shawn Ryan and Vahan Moosekian are executive producers.
Permalink Comments off