Now that his pal, comic Sarah Silverman had her own show on "Comedy Central," will we be seeing Jimmy Kimmel actually acting?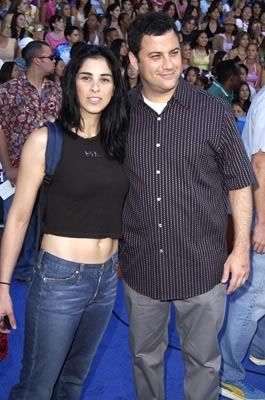 (Sarah Silverman with Jimmy Kimmel)
"Jimmy makes one cameo appearance that if you blink you will miss it," Sarah says. "He plays Joan the Dispatcher in a party scene for Jay's birthday."
Jay Johnston plays a policeman who goes out with Sarah's sister Laura, who is played by Sarah's real-life sister Laura. The names, apparently, remain the same so the actors can concentrate on more important stuff in this irreverent comedy.
"It's (Jay's) birthday party, and Jimmy says to Brian (Posehn) by the punch bowl – as the camera pans, you just see him and he's dressed as a woman, but it's very not trannyish. It's very like a
short woman's haircut, very little makeup," Sarah says. "And he says, `They call me Joan the Dispatcher because there's
another Joan in accounting.' "
Brian takes a beat, then he improvised, "You're tall."
"That's it," Sarah says. "But it's very sweet."
Or at least as sweet as it gets in the comedy revolving around the self-centered Sarah and her life sponging off her sister and hanging with her friends. "The Sarah Silverman Program" premieres at 10:30 p.m. Thursday on Comedy Central.