Blake's promoting her new CW series "Gossip Girl" about the social lives of Upper East Side teens filled with entitlement issues based on the best-selling series of young adult novels by Cecily von Ziegesar executive-produced by "The O.C."'s Josh Schwartz and Stephanie Savage.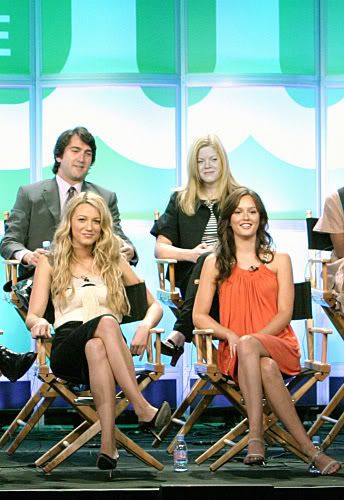 Pictured ( back l -r) Executive Producer Josh Schwartz, Stephanie Savage Executive Producer, Blake Lively and Leighton Meester session at the TCA Summer Press Tour 2007 held on July 20, 2007 at the Beverly Hilton Hotel in Los Angeles, CA. Photo: Carol Kaelson/THE CW
She's still tight with her "Sisterhood of the Traveling Pants" co-stars America Ferrera ("Ugly Betty"), Amber Tamblyn ("Joan of Arcadia") and Alexis Bledel ("Gilmore Girls").
"My first instinct was I'm going to call the girls, because I knew they had all been through it. But then I was — they're so dog-gone opinionated
and they're all so different,'' Blake says. "When they get together, I'm like their baby sister. And they sit me down. I was going to get another dog recently, and they're like, "No. You're not going to do that." They, like, wrote a whole list of pros and cons for me. So I thought I'm just going to make this decision on my
own, and then I'm going to talk to them about it, which, I think, was the right decision. I'm very happy.''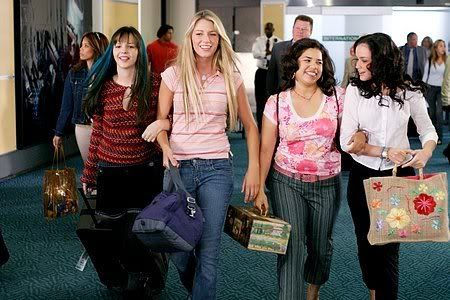 The Sisterhood
Blake and the girls will be filming the sequel soon, she says. By the way, her current maltese/poodle mix Penny, 2, looks like an adorable brown mini-ewok with curls.
As for the gorgeous Vivienne Westwood yummy yellow dress that cinched tightly around her waist with a large belt, Blake says she can hardly wait to get it off.
"It looks great, but just try eating something while you are wearing it,'' Blake says, rubbing her tummy. "Just trying to eat a couple of bites really hurts.''
Permalink Comments off