I have to admit, I was starting to get a little worried about my show after the past two weeks.
And I'm still not really happy with the lousy Irish accents in the Peter storyline, although I am appreciating the buffness that is the new Peter. The only storyline I enjoyed right from the beginning was Hiro in old Japan.
The twins haven't really done it for me. She kills, he heals. Too many subtitles. I don't like subtitles as a rule because while you are reading, you miss out on the actors and the nuances in their faces. With these new characters, it gets annoying quite quickly.
But tonight we got Sylar, and that bad to the bone boy has learned that he still has some considerable limits on his power. Thank goodness.
And what a treat to see original "Star Trek" actress Nichelle Nichols as Micah's caregiver.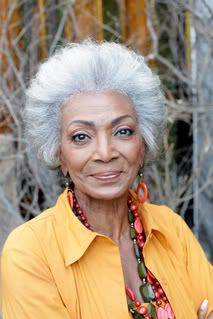 Nichelle Nichols as Nana Dawson — NBC Photo: Chris Haston
First Sulu (George Takei) and now Uhura. Trekkies should be in bliss. Can Spock and Kirk be far behind?
It's all a great tie-in to the new "Star Trek" being film, which stars Zachary Quinto (Sylar) as Spock.
For fans of Kristen Bell ("Veronica Mars"), she'll be showing up as Elle on the Oct. 22 ep.

Kristen Bell NBC Photo: Chris Haston
Yep, I'm back on board after tonight's show.