It's true. "The View" won't have Rosie O'Donnell kicking up any more dust – and more importantly heating up the ratings.
ABC announced early today that the network was unable to come to a contractual agreement with "The View" co-host. As a result, her duties on the show will come to an end mid-June.
"They wanted me three years, I wanted one year, and it just didn't work," Rosie says on today's show.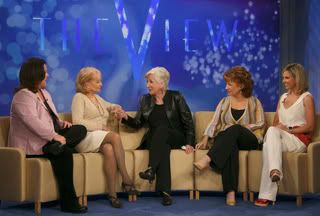 (ABC/HEIDI GUTMAN) ROSIE O`DONNELL,BARBARA WALTERS,OLYMPIA DUKAKIS,JOY BEHAR,ELISABETH HASSELBECK
"Going in we knew we would have an amazing year with her, and that anything beyond that would be gravy," says Brian Frons, president of daytime programming for the Disney-ABC Television Group. "But we were willing to take the chance because we understood what a coup it was to entice Ro back to daytime television. So here we are a year later, and while we've tried to come to terms on a deal that would extend her co-hosting duties on 'The View,' we find ourselves unable to agree on some key elements."
Rosie pumped up the profile of the daytime show with her ongoing feud with Donald Trump, her politically incorrect comments and her attacks on those she felt were intolerant of the rights of others.
Barbara Walters, creator and co-executive producer of "The View," said in a statement that she was the one to coax the high voltage Rosie into taking a seat on "The View."
"She has given the program new vigor, new excitement and wonderful hours of television. I can only be grateful to her for this year," Barbara says. "I am very sad that ABC Daytime could not reach an agreement with her for a second year."
As for Rosie, she says in a release sent out by ABC that it has been an amazing experience and one she wouldn't have traded for the world.
"Working with Barbara, Joy and Elisabeth has been one of the highlights of my career, but my needs for the future just didn't dovetail with what ABC was able to offer me.

To all the viewers out there, I just want to say 'thank you' for opening up your hearts and your homes to me this past year. But you can always find me at rosie.com. Here's hoping there's more confetti for all of us going forward."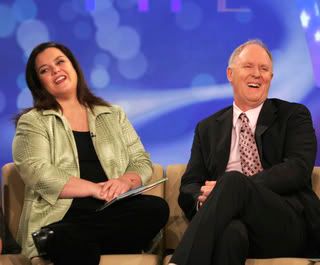 (ABC/HEIDI GUTMAN) ROSIE O`DONNELL,JOHN LITHGOW
Since the departure was made on friendly terms, ABC hopes to entice Rosie back next year to take part in a series of one-hour specials or guest host once in a while.
There are no current plans to announce a new co-host.