Check out my video interview with Jerry Seinfeld on SueTube.
And if that's not enough for you, here's ANOTHER Jerry interview:
Jerry Seinfeld says he's happy I have a digital recorder.
"I just had a lovely chat with (another reporter) and she kept her head down the whole time writing," Jerry says right after I walk into the interview room at the Ritz Carlton in San Francisco. "I told her, while you were writing we could have been chatting. Instead, I'm trying to talk to the top of your head."
My interview comes after Jerry has dropped into San Francisco by way of a trolley car festooned with fake bees. He walked down the yellow carpet, chatting it up with radio and TV news folks before going into a screening at the Metreon for a few lucky people _ journalists mostly.
Here's Jerry and the trolley and, of course, the yellow carpet:

Here's Seinfeld taking a few questions from the audience:
You can go here to check out the trailers and other cool stuff about "Bee Movie."
Anyway, then Seinfeld headed a few blocks uptown to the Ritz, were he spent hours doing rounds of interviews, both for print and TV and Web casts. We'd already had our video interview, which you can see on SueTube. Then it was time for round two for the print stories.
Me: So, how is it going so far?
Jerry: After a while, my head starts to swell. It's like going to an amusement park with too much noise and too many people and you start to feel a little dull. If one more guy asks me `How did you come up with the idea for the Bee Movie. Did you make it for your kids?' I'm going to just lose it and say, You're a journalist. A 10-year-old could could come up with a better question.
Me: Wow. That just took care of my first two questions.
Jerry, looking a little sheepish: Oh. Really?
Me: No. I was yanking your chain. I wouldn't ask those questions. I'd rather ask what YOU would ask if you were a journalist interviewing Jerry Seinfeld about "Bee Movie."
Jerry. Oh, you're good. OK, I would ask what got you really frustrated making this? Animation is a very technical, very sophisticated, very detailed puppet show. Now I don't get to work the puppet, I get to talk to the puppeteer, so my ability to communicate to the puppeteer what I wanted the puppet to do determined what that puppet did.
Instead of being funny, which is what my whole career has been, I'm now describing funny to, in most cases, a not funny person. It's like describing a bris. I'm comfortable with challenges of vocabulary, but even for me it got hard. It's that telephone game; I'm going to tell you to tell him. There's too many steps. With a live actor, you tell him to do that thing where you whip your head around and we're done. One step. He says, yeah, I know that thing.
Now I'm working with 60 different animators, with video conference not even in same state. For four years I'm doing this. Frustrating.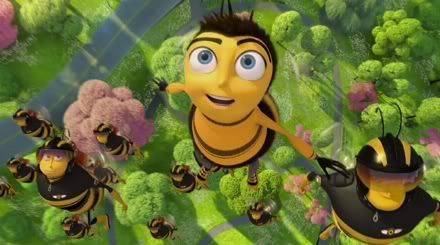 ">
Barry Benson
Me: But you love perfecting your comedy routines and on "Seinfeld" you were known to spend a lot of time polishing your comedy to perfection.
Jerry: The was the good thing about spending four years on 'Bee Movie.' I got to really work it over and over, which I love to do. I'm a good noodler. I'd be a good whittler or model maker, sitting in a woodshop all day. Like that.
Me: So you're a whittler of comedy?
Jerry: Let's say sculptor. It sounds a little more artistic.
Me: So, did you say you got your start in comedy in San Francisco?
Jerry: I didn't start here, but it was one of the first places I got work. Oh baby, it was romantic, new things in comedy were happenign all the time. It was the mid-'70s and we were going to clubs and young people were getting on stage, and doing acts we hadn't seen before. Not hacky joke-jokes. It was a sexy thing.
Me: What was the sexiest thing about it?
Jerry: I went from being just a guy to a GUY. Actually, I didn't get lucky in San Francisco, but it didn't matter. Suddenly girls were interested in me. I found out after I was in (comedy) that it would help you (get lucky).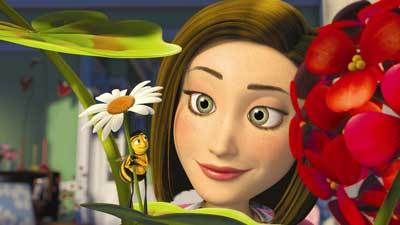 Barry tries to get lucky too.
Me: What comedian knocks your socks off?
Jerry: Bill Cosby and still does. Impresses me more now, and I can't say that about any other comedian I've seen. He has gotten better and better and better. Chris Rock and I went a couple of years ago to the Apollo in Harlem. You never saw two such sad faces, so depressed. Guys like Chris and I, everybody we see, we say we could do that..and think we could do better. Not him. It takes observational humor and no one makes it more funny.
Me: Some people might say the same about you. Are you working on any new stand-up material?
Jerry: I have a new routine about the OnStar system. They have those commercials where they play the tape of person calling in for help. Saddest development in human culture. The key goes with you when you leave the car, people. Then, they not only do something that stupid, but then they let themselves be used in a commercial. Not sure I have my dog and kids…oops, maybe I should have checked inside the car before I locked the door.
Me: Did doing those 'Bee Movie' ads on NBC make you nostalgic for your old stomping grounds?
Jerry: They are, what?, in fourth place now. And I still love them. There was time when they had David Letterman and Johnny Carson and they were just the coolest network ever. I think some of it is systemic and cultural. Look at how media is expanding laterally and at lightening speed. It's hard for a network to survive as a central place. We're not going back to Life magazine where everyone read it every week. And people aren't going to just watch one network.
Me: What do you think of TV shows like "Heroes" or "Lost" who have all these components like online, comic books, and all that. Could you have done that on "Seinfeld'?
Jerry: No, I couldn't do all those platforms. People are sometimes little overconfident in what it takes to make a good show. I remember when Larry and I were doing the show, we'd hear about these successful producers who grabbed these deals to put two more on the air. We'd scratch our heads. Two? It's impossible to do one right. People don't quite take it seriously. When I am working on anything in comedy, it's serious. And it's all I do.
The standup is like taking your dreams and turning it into funny stories.
Doing a movie is a tightly structured, arcs of movement, extremely discipline, like a TV show. You have to do comedy but with storytelling. Trying to wed these two crafts is like animal husbandry and sometimes they want to do it and sometimes they don't.
Me: You took the movie to test audiences to see what they thought of the rough cut of "Bee Movie." How hard on your ego was it to hear them hand out negative comments?
Jerry: Oh, honey. This is not new to me. Listening to negative feedback is hard. I know the poison of success and that's one of them. People who don't want to know nobody liked it. Well, that's not the business. Some times when it was hard, when I thought I really had it and audiences didn't respond well. I have such respect for people who make movies now. I will never trash a movie, because now I have respect for what you are tackling. It's like doing the pilot episode and the series finale all in one shot and tell a great story in between.
We made changes based on what the test audiences said. They filled out cards and we tried to establish general trends. If tell a joke in front of 50 people, 10 laugh that's good. Two laugh, probably not.
Me: So what did the audiences tell you?
Jerry: We don't want this guy to be too arrogant, which I have been in the TV series, playing myself. I would say things that were mean sometimes, but it was fun. But this character, it goes back to animation and creating just the right physical movements. We couldn't get what we wanted from the animated characters, because you can't get to the live action, nuanced subtle performance. You can't get the audience to see the twinkle in the eye. Take the medicine, that's what I learned.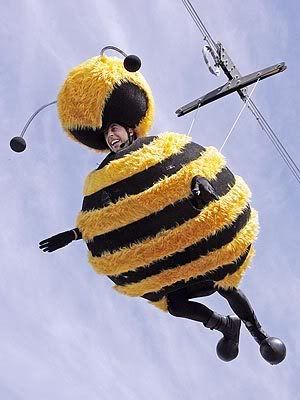 Seinfeld also knows how to get some buzz, like dressing up like a bee and scooting down a high wire at the Cannes Film Festival
Me: What do you like to do when you travel to new cities?
Seinfeld: I like to see where I would live, where intellectual, not-so-good-looking people live. That's where I would feel comfortable.
Me: So in real life, are you more like "Seinfeld" or more like your "Bee Movie" character Barry Benson?
Seinfeld: I'm more like Seinfeld, more like mean person.
I saw no evidence of that.