Yeah, "American Idol" and "Dancing with the Stars" still take top honors, but it's nice to see that "Grey's Anatomy" and "Desperate Housewives" breaking into the top ranks this week.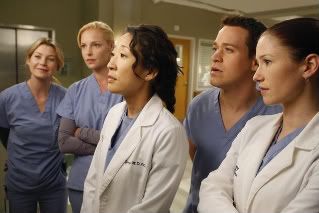 ABC's Grey's Anatomy is back and better than ever. ELLEN POMPEO, KATHERINE HEIGL, SANDRA OH, T.R. KNIGHT, CHYLER LEIGH Photo by Vivian Zink
Here are the numbers, with viewer numbers and ratings. As Jason Bezis pointed out a few weeks ago, blockbusters like "American Idol" would have been canceled with those kinds of ratings a decade ago when top shows rated in the double-digits.
1 AMERICAN IDOL-TUESDAY 24740 8.6
2 AMERICAN IDOL-WEDNESDAY 23200 8.1
3 DANCING WITH THE STARS 18040 6.3
4 DANCING W/STARS RESULTS 17970 6.3
5 CSI 17020 5.9
6 GREY'S ANATOMY-THU 9PM 16370 5.7
7 DESPERATE HOUSEWIVES 16350 5.7
8 CSI: MIAMI 14380 5.0
9 NCIS 14240 5.0
10 WITHOUT A TRACE 13470 4.7
11 TWO AND A HALF MEN 13360 4.7
12 SURVIVOR: MICRONESIA 12900 4.5
13 LAW AND ORDER 12750 4.5
14 LOST 12080 4.2
15 EXTREME MAKEOVER:HOME ED. 12070 4.2
Read the rest of this entry »