I'm not sure why I even bother posting the first three highest rated shows for the week of April 14-20, 2008 because everyone knows their names.
But what is exciting is discovering that while some reports were saying the numbers for "Desperate Housewives" were disappointing when the series returned on April 13, you can see that the girls have made quite the comeback.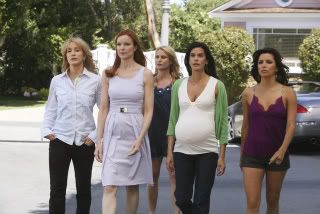 ABC's "Desperate Housewives" – the girls are back and kicking ratings – ABC/DANNY FELD) FELICITY HUFFMAN, MARCIA CROSS, NICOLLETTE SHERIDAN, TERI HATCHER, EVA LONGORIA PARKER
And apparently people are interested in the presidential election – last week's debate came in at an impressive No. 14. Check out where your favorite show comes up. Click (more) at the bottom to read the entire 98 list.
1 AMERICAN IDOL-TUESDAY 23650 8.3
2 AMERICAN IDOL-WEDNESDAY 23340 8.2
3 DANCING WITH THE STARS 17200 6.0
4 DESPERATE HOUSEWIVES 15750 5.5
5 DANCING W/STARS RESULTS 15420 5.4
6 NCIS 15130 5.3
7 TWO AND A HALF MEN 13940 4.9
8 CSI: NY 13430 4.7
9 LAW AND ORDER:SVU 13270 4.6
10 CRIMINAL MINDS 12980 4.5

11 SURVIVOR: MICRONESIA 12010 4.2
12 BIGGEST LOSER 5 11390 4.0
13 60 MINUTES 10750 3.8
14 ABC NEWS: DEM PRES DEBATE 10690 3.7
15 CSI: MIAMI 10630 3.7
16 HELL'S KITCHEN 10560 3.7
17 CSI 10480 3.7
18 RULES OF ENGAGEMENT 10400 3.6
19 OPRAH'S BIG GIVE 10090 3.5
20 BROTHERS & SISTERS 10080 3.5
21 OFFICE 9860 3.4
22 MEDIUM 9760 3.4
23 DEAL OR NO DEAL-WED 9740 3.4
24 DEAL OR NO DEAL-MON 9720 3.4
25 SAMANTHA WHO? 9470 3.3
26 DON'T FORGET THE LYRICS 9290 3.2
27 SMARTER THAN 5TH GRADER 9240 3.2
WITHOUT A TRACE 9240 3.2
29 BOSTON LEGAL 8840 3.1
30 BONES-MON 8P 8730 3.0
31 HALLMARK HALL OF FAME: Sweet Nothing in My Ear 8120 2.8
32 HOW I MET YOUR MOTHER 8080 2.8
33 E.R. 7820 2.7
34 BIG BANG THEORY, THE 7630 2.7
35 AMER FUNN HOME VIDEOS 7190 2.5
SCRUBS 7190 2.5
37 BACK TO YOU 7110 2.5
38 DATELINE FRI 7100 2.5
39 MY NAME IS EARL 6870 2.4
40 NUMB3RS 6840 2.4
41 GHOST WHISPERER 6740 2.4
42 BACHELOR: LONDON CALLING 6600 2.3
43 NEW AMSTERDAM 6580 2.3
44 30 ROCK 6500 2.3
45 BIG BROTHER 9-SUN 6490 2.3
46 ELI STONE 6230 2.2
47 BIG BROTHER 9-TUE 6200 2.2
48 LAW AND ORDER 6170 2.2
49 BIG BROTHER 9-WED 6090 2.1
50 LAW AND ORDER:SVU-SUN 5950 2.1
51 48 HOURS MYSTERY 5900 2.1
52 TIL DEATH 5890 2.1
53 MEN IN TREES 5700 2.0
54 COPS 2 5580 1.9
MONK 5580 1.9
56 MOST OUTRG MOMENTS 830P 5540 1.9
57 FAMILY GUY 5450 1.9
58 AMW: AMERICA FIGHTS BACK 5390 1.9
59 20/20-FRI 5340 1.9
60 SIMPSONS 5300 1.9
61 MOONLIGHT 5270 1.8
62 48 HOURS MYSTERY TUESDAY 5160 1.8
63 LAW AND ORDER-SAT 5150 1.8
64 HOUSE SP-4/18 8P 5050 1.8
65 DATELINE SUN-7PM 5010 1.7
66 MOST OUTRG MOMENTS 8P 4990 1.7
67 AMERICAN DAD 4980 1.7
68 CANTERBURY'S LAW 4620 1.6
69 COPS 4570 1.6
70 KING OF THE HILL 4540 1.6
71 LAW AND ORDER:CRIM INTENT 4310 1.5
72 48 HOURS MYSTERY 9PM 4280 1.5
73 LAW & ORDER:CI-SAT 4260 1.5
74 LOST-THU 8PM 4120 1.4
75 PSYCH 4040 1.4
76 CRIMETIME SATURDAY 8PM 4010 1.4
77 ABC SAT MOVIE OF THE WEEK 3970 1.4
78 AMERICA'S TOP MODEL-4 3850 1.3
79 FRIDAY NIGHT SMACKDOWN 3710 1.3
80 ACCORDING TO JIM-TU 8PM 3700 1.3
81 ACCORDING TO JIM-TU 8:30P 3620 1.3
82 SMALLVILLE 3610 1.3
83 DUEL 3290 1.1
84 LAW & ORDER:CI-SAT 4/19 3150 1.1
85 DESPERATE HOUSEWIVES-4/18 3080 1.1
86 AMERICAN DAD-SUN 7:30P 3040 1.1
87 ONE TREE HILL-MON 2800 1.0
88 KING OF THE HILL-SUN 7P 2600 .9
89 SUPERNATURAL 2120 .7
90 PUSSYCAT DOLLS:GIRLICIOUS 1850 .6
91 REAPER 1590 .6
92 BEAUTY AND THE GEEK-3 1560 .5
93 GAME, THE-SUN 1460 .5
94 GOSSIP GIRL-MON 1320 .5
95 GIRLFRIENDS-SUN 1270 .4
96 AMERICA'S TOP MODEL-4-ENC 1180 .4
97 EV HATES CHRIS-SUN2 1140 .4
98 ALIENS IN AMERICA-SUN 1090 .4