Our favorite "Office" blogger Jennie Tan of Palo Alto scored in the first "The Office" convention in Scranton, held Oct. 26 to 28.
The Tanster was as much a celeb as the folks from the series, with a blogger fan giving her a parking sign for Dunder-Mifflin with her name on it. She was featured in a TV news story.
As you know, Jennie and Angela Kinsey of "The Office" did a SueTube talking about the show. Jennie's an amazing woman who clocks in way too many unpaid hours on her Web site.
To find out everything you ever wanted to know about "The Office," check out officetally.
Next week on "The Office," –After Ryan (B.J. Novak) excludes Michael (Golden Globe winner Steve Carell) from a corporate wilderness retreat, Michael heads into the woods for his own survival adventure with nothing but the suit on his back. Back at work, Jim (John Krasinski) tries to revolutionize the office birthday party.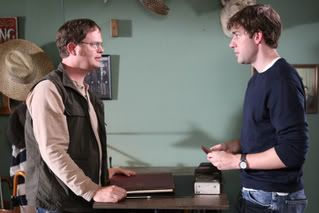 Rainn Wilson (Dwight) and John Krasinski (Jim)
Permalink Comments off