Want to know who's who when your CBS shows come back this month? We also discover that there is life after "Buffy the Vampire Slayer" for one actor.
Here's a quick rundown from the network:
CRIMINAL MINDS Wednesdays, 9:00-10:00 PM, ET/PT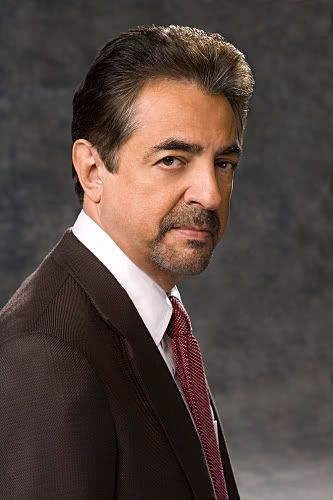 Emmy Award nominee JOE MANTEGNA will join the cast of CRIMINAL MINDS starring as FBI Special Agent David Rossi, an original member of the Behavioral Analysis Unit who took early retirement to go on lecture and book tours, and has volunteered to return to the unit.
Mantegna is scheduled to make his first appearance in the sixth episode of the season.
"We are all THRILLED to have Joe Mantegna joining our family. He's an incredible actor, a genuinely nice person and, as a fellow Chicagoan, I can tell you he makes fantastic Italian Beef sandwiches and Chicago Style Hot Dogs," said Executive Producer Ed Bernero.
And the reliable actor isn't likely to skip out on the show like Mandy Patinkin.
CSI: NY Wednesdays, 10:00-11:00 PM, ET/PT
A.J. BUCKLEY will become a series regular after recurring for two seasons as Adam Ross, a CSI Tech guru out of Seattle. Specializing in Computer Forensics, Ross is the go-to scientist for the latest technological applications needed to solve crimes in Manhattan.
"He was hired by Mac Taylor to stay 'one step ahead' of the criminals in New York City, who often use more complicated technology than the average crime lab in the country. Therefore, Ross is the X-factor in crime solving and necessary 'ringer' to fight the most complex and sophisticated crimes," said Anthony E. Zuiker, Creator and Executive Producer of the CSI Franchise.
GHOST WHISPERER Fridays, 8:00-9:00 PM, ET/PT
JAY MOHR will become a series regular, playing Professor Payne who provides an encyclopedic knowledge of the spirit world, as well as genuine concern for Melinda's (Jennifer Love Hewitt) safety as she puts herself in ever greater danger to protect those she cares about — even though he hides his concern behind an ever-present irreverent sense of humor.
"We're thrilled to have Jay as a series regular this year. He's a terrific actor who is fun to work with for the same reasons he's fun to watch: he brings humor, energy, creativity and spontaneity to the set and to his role. He also brings sports commentary and sometimes donuts," says Executive Producer P.K. Simonds.
SHARK Sundays, 10:00-11:00 PM, ET/PT
KEVIN ALEJANDRO joins the cast as Sebastian's (James Woods) newest team member Danny Reyes, an edgy and aggressive young deputy district attorney who earned his stripes in the Organized Crime Unit.
"Kevin Alejandro is an incredibly dynamic and intelligent actor who brings great energy and attitude to the legal team," says Executive Producer/Creator Ian Biederman. "Danny plays by his own rules — which both endears him to Sebastian and creates great conflict."
NEW RECURRING CAST MEMBERS:
SHARK Sundays, 10:00-11:00 PM, ET/PT
KEVIN POLLAK joins the series in the recurring role of brash and cunning newly elected District Attorney Leo Cutler.
"Kevin Pollak is a superb actor who infuses the role of Leo Cutler with wit and a moral ambiguity that is a perfect fit for the show. Leo's an outstanding foil for Sebastian and the team," says Executive Producer/Creator Ian Biederman.
WITHOUT A TRACE Thursdays, 10:00-11:00 PM, ET/PT
Golden Globe nominee HENRY THOMAS ("E.T.: The Extra-Terrestrial," "Gangs of New York") will join the series in a recurring role as Jack's (Anthony LaPaglia) evil nemesis, and the leader of a human trafficking group who the FBI team is pursuing.
GUEST STARS:
CSI: CRIME SCENE INVESTIGATION Thursdays, 9:00-10:00 PM, ET/PT
JESSICA LUCAS ("The Covenant," "The L Word") is set to guest star in four episodes of CSI: CRIME SCENE INVESTIGATION beginning Thursday, Oct. 11. She plays the role of Veronica Lake, aka "Ronnie," a young, overzealous new CSI in training, who is extremely bright, albeit naïve. After graduating from one of the top criminalistics programs in the country, she was offered positions at numerous crime labs, but chose Vegas due to its increase in crime rates. Now that she's entered the throws of solving real crimes, she's about to find out that in searching for the perpetrator of a crime, she could easily become his next victim.
WITHOUT A TRACE Thursdays, 10:00-11:00 PM, ET/PT
JAMES MARSTERS ("Buffy the Vampire Slayer," "Angel") will guest star in a five episode arc beginning with the season premiere on Thursday, Sept. 27. He will play Grant Mars, a detective who helps Vivian (Marianne Jean-Baptiste) with an unsolved case.
RULES OF ENGAGEMENT Mondays, 9:30-10:00 PM, ET/PT
Golden Globe nominee HEATHER LOCKLEAR ("Spin City") will guest star in two episodes later this season as Barbara, the sister of Audrey (Megyn Price) who comes to town to visit. During her stay, Barbara announces that her marriage, which Audrey has always idealized, may be over. While Audrey has a difficult time dealing with the news, she is even more surprised to learn that her sister has agreed to go on a date with Russell (David Spade).
Permalink Comments off