Back when Survivor spent its third season in Africa, host Jeff Probst said it was more like spending time in a zoo than being out in the wilderness.
"It's a preserve and the animals are used to having people around all the time, so it wasn't that big of a deal to them," Probst says after his recent return from filming the latest version of Survivor in Gabon. "In Gabon, they told us in advance that this would be completely different. These animals were not used to seeing any body around and if you see an elephant, it's a big deal because you just don't know how they are going to react."
Probst says that during one Survivor:Gabon interview, a giant elephant came within 50 yards of the film crew.
"It was thrilling and scary at the same time," Probst says. "This elephant will stomp on you. There were moments in the filming when survivors interacted with the animals and it felt like being in a Spielberg movie."
At one point, a 12-foot python slithered into the camp, and someone had the bright idea of using it as a prop for a promo shot with Probst. The crew tried to reassure Probst they could stop the snake from squeezing him to death if it tried. Heck, the worst thing would be Probst might get a nasty, but not fatal, bite.
"They put the snake around my neck and I was holding the head while it was moving and I kept reminding myself that this was not a quote trained L.A. snake, unquote, but one that just crawled out of the jungle," Probst says. "I held him for about five minutes while I had flashbacks to another promo about three years ago doing the snake thing with (so-called) trained snake. It bit the trainer, a full on clamp on the wrist. (On our shoot) we got some great still shots of me with the snake, but I wasn't going to tempt things for too long."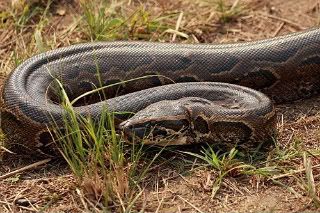 CBS website has this snake, but not the picture with snake and Jeff Probst for "SURVIVOR: GABON – EARTH'S LAST EDEN," which begins its 17th installment at 8 p.m. Sept. 25 on CBS. Photo: Monty Brinton/CBS ©2008 CBS Broadcasting Inc.

Last time Survivor" went to Africa, they called it the most boring cycle every.
OK, maybe that was just me. But with the dry plains instead of those subtropical and beach shots, the series had all the tension of watching paint dry. What more can you say about a series that includes rolling boulders as a challenge? And the contestants? Sleeping pills on steroids.
When the high points include some Virginia farmer named Big Tom Buchanan dong the chicken dance to "chicken in a bread basket picking out dough" or some blah, blah, blah, blah do-si-do stuff, you know you're in trouble.
Did you miss those golden moments? We're here to share a few more with you:
Read the rest of this entry »
Permalink Comments off