It looks as if the picket signs will be taken down and the writers will be back to work on Wednesday. You can check out the details on Nikki Finke's fine blog Deadline Hollywood or the most recent Bloomberg report.
That's just two days before the "drop-dead deadline" to preserve the remainder of the season and allow some bit of a pilot season. The fact that it also saves the Oscars is just an added bonus that makes the writers and actors happy. It's one thing to miss out on the Golden Globes, that bloated tribute by a small group of foreign press. It's quite another to miss out on your Uncle Oscar.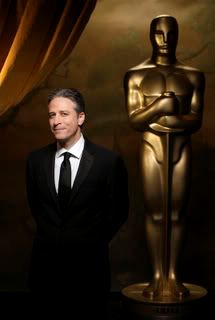 Jon Stewart won't have to cross any picket lines when he hosts the 80th Academy Awards on Sunday, Feb. 24. This is the second time Stewart has hosted the Oscars. Photo: Bob D'Amico/ABC
Oddly enough, on the eve of the strike vote three months ago, I was in the middle of e-chatting with Bryan Fuller of "Pushing Daisies" and again today we spent part of today e-talking.
Bryan's a fabulous person. But as noted in an earlier post, even with the strike being over, some shows won't be back on the air this season. And that includes "Daisies." In fact, this coming fall season looks more like a restart of this past fall. Shows like "Daisies," "Chuck" and maybe even "Reaper" could get a second shot this fall.
There are a lot of shows on the fence, but it looks like lights out for shows like "Bionic Woman" and "Friday Night Lights." "FNL" was the passion project of NBC's former entertainment president Kevin Reilly, who is now Fox's entertainment honcho. He was replaced by veteran producer Ben Silverman. ("The Office") and Marc Graboff.
While there has been talk of "FNL" going to one of NBC's cable siblings like USA or Bravo, that hasn't been announced, nor does it seem likely. Last March, the series aired unspectacularly on Bravo.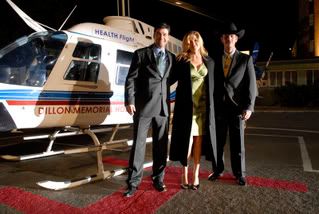 On the season, or series, finale last Friday, Kyle Chandler as Eric Taylor, Connie Britton as Tami Taylor and Peter Berg as Morris "Mo" McArnold — NBC Photo: Bill Records
And the jury is still out on "Jericho," which returns this week after fans threw mountains of nuts at CBS execs, causing them to rethink the show's cancellation.
But last summer, viewers tuned out in droves to a repeat of the series. We can only hope that they will come back on board with the slate of new episodes.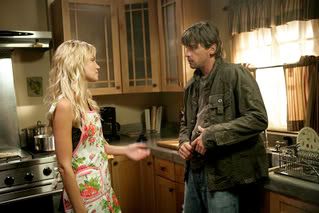 Things heat up in the kitchen when "Jericho" returns on Tuesday. Emily (Ashley Scott) tries to make Jake's (Skeet Ulrich) mother feel better mourn the loss of her husband by baking her favorite cake, on the second season premiere of "Jericho" at 10 p.m. Tuesday on CBS. Photo: Mitch Haddad/CBS ©2007 CBS Broadcasting Inc.
Meanwhile, it's all good news about Hollywood getting back to work. Now that sure beats candy and flowers, doesn't it?