It's true. As producer Shawn Ryan predicted, CBS took it's own sweet time deciding on picking up the show, but "The Unit" will be back on board at 10 p.m. Sundays this fall.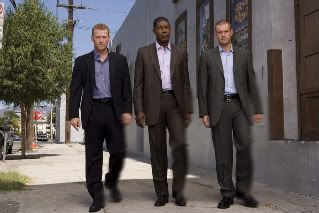 Max Martini, Dennis Haysbert, and Scott Foley star in "The Unit" on CBS. Photo: Monty Brinton/CBS ©2007 Broadcasting Inc.
Sadly, both "Shark" and "Moonlight" didn't make the final cut.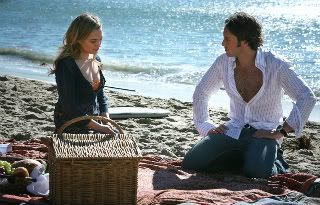 Vampire Mick had a brief time in the sun before CBS canceled "Moonlight." Mick (Alex O'Loughlin) enjoys what time he has left as a human with Beth (Sophia Myles), on "Moonlight" at 9 p.m. Friday April 25 on CBS. Photo: Adam Taylor/CBS
Forgive me, but a flare-up of the herniated disk in my neck means I'm poaching liberally from the CBS press release. So here goes:
CBS announced today its 2008-2009 Fall Primetime Lineup, featuring five new series — two comedies and three dramas — and the launch of a new comedy block on Wednesdays.
The new series include:
ELEVENTH HOUR, a dramatic thriller from producer Jerry Bruckheimer about a special advisor to the government who investigates scientific crises and oddities.
THE MENTALIST, starring Simon Baker as a former celebrity psychic-turned- detective who uses his gifted skills of observation and expertise at "reading" people to solve crimes
THE EX LIST, a sexy comedic drama about a 30-something woman who searches her past relationships to find her future husband
PROJECT GARY, a comedy starring Jay Mohr and Paula Marshall as dueling ex-spouses and parents trying to move forward with new relationships
WORST WEEK a comedy based on a British series about a good guy who is always trying to do the right thing, yet something always goes wrong — especially when he's around his girlfriend's parents.
The freshman series will join 18 returning programs on the current CBS lineup.
CBS will return network television's Number One drama franchise — CSI: CRIME SCENE INVESTIGATION; CSI: MIAMI, CSI: NY — the Number One comedy, TWO AND A HALF MEN; the Number One news magazine, 60 MINUTES; and two franchise reality series —SURVIVOR and the five-time Emmy Award-winning THE AMAZING RACE.
Also returning are: THE BIG BANG THEORY, HOW I MET YOUR MOTHER, NCIS, WITHOUT A TRACE, THE NEW ADVENTURES OF OLD CHRISTINE, CRIMINAL MINDS, GHOST WHISPERER, NUMB3RS, COLD CASE, THE UNIT, 48 HOURS MYSTERY and CRIMETIME SATURDAY.
Read the rest of this entry »