With ratings like these, if the CW was a TV show, it would have been cancelled long ago.
The barely breathing network trotted out its new game plan today, with the family-in-Africa drama "Life is Wild" missing. If you don't know what show I'm talking about, don't worry. Very few viewers ever tuned it. In fact, if you gathered all the regular viewers together they probably wouldn't even make a noticible line in Starbucks.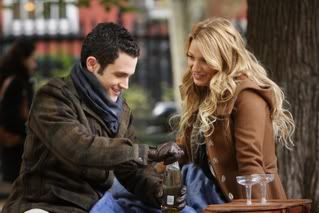 Penn Badgley as Dan and Blake Lively as Serena star in Gossip Girl on The CW. Photo Eric Liebowitz /The CW
Not that they don't have some great shows. "Gossip Girl" is a great guilty pleasure, and although "Reaper"never again rose to the level of its fantastic pilot, it's still not a bad show.
Enough pitching. Here's the line-up:
Monday
8 p.m. "GOSSIP GIRL" (Beginning January 28)
9 p.m. "PUSSYCAT DOLLS PRESENT: GIRLICIOUS" (Beginning February 18)
Tuesday
8 p.m. "REAPER" (Beginning January 15)
8 p.m. "BEAUTY AND THE GEEK" (Beginning March 11)
9 p.m. "ONE TREE HILL" Wednesday (Beginning February 20)
8 p.m. "AMERICA'S NEXT TOP MODEL"
9 p.m. "PUSSYCAT DOLLS PRESENT: GIRLICIOUS"
Encore
Thursday
8 p.m. "SMALLVILLE"
9 p.m. "REAPER" (Beginning February 28)
Sunday (Beginning February 10)
7 p.m. "CW NOW"
7:30 p.m. "EVERYBODY HATES CHRIS" Encores
8 p.m. "EVERYBODY HATES CHRIS"
8:30 p.m. "ALIENS IN AMERICA"
9 p.m. "GIRLFRIENDS"
9:30 p.m. "THE GAME"