In a chat with "Mad Men" creator Matthew Weiner, he told me that his oldest son Martin Weiner, 11, played the strange boy Glen Bishop.
If you remember, in the season finale Betty (January Jones) sees Glen sitting in a car when she pulls into the bank parking lot. On her way in to the bank, she walks over to talk to him.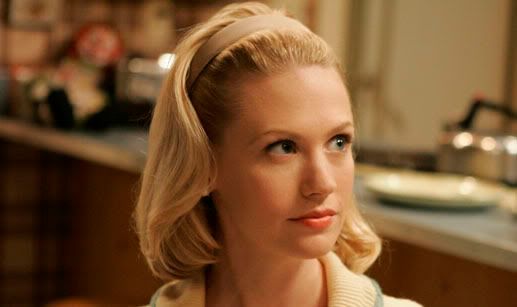 January Jones as Betty Draper on AMC's "Mad Men," which premieres July 27
"I'm not supposed to talk to you," Glen says, shyly. She says she doesn't care. "I can't talk to anyone. I'm so sad," she says. "Please tell me I'll be okay." He reaches his mitten-covered hand up to her and tells her that he wishes he were older
"When we shot that last scene, it was so hot and it was supposed to snowing and we had everyone in these heavy winter clothes. I was so afraid that January was getting overheated, so I kept making sure she was getting plenty of water and ice," Matthew says. "We thought she might get heat stroke."
Then all of a sudden, Matthew realized that his own son was sitting in the car with a coat and wool hat and mittens.
"I ran over and kept assuring him that daddy really does love him more than he loves one of the stars of his show," says Matthew laughing. "I can't believe I left my own son in the car. But he said he was fine."
And where was Matthew's wife and Marten's mom?
"You know how long and boring these shoots are," Matthew says. "She was under a tree reading a book.
But don't worry, no child or animal was injured during the filming of this scene.
Permalink Comments off