Nigel says he cannot discuss Jessica King's injury. No, really. Just can't do it. Legal issues and all that.
Her injury was Comfort Feoke's gain. Although Comfort was eliminated last week, she won't miss a step as she returns to the show on Wednesday. Judge Nigel Lythgoe says it's brave of Comfort to return, knowing she could get booted off a second time.
So why Comfort?
"She's had some surprisingly beautiful moments, and every dancer can have some bad weeks," Mary Murphy says. "So maybe this one more shot she'll be able to knock our socks off."
But more importantly Mary, how did Hot Tamale Train come about?
"It just flew out of my mouth one day," says Mary, who also says she's called hot Latin dancers hot tamales for a long time. "But now Fox owns it."
As for show quitter Robert Muraine, who couldn't handle the choreography, the judges were critical of the guy.
"No dancer should quit, ever," says Nigel Lythgoe. "It's a really tought life. Have a sprained ankle. strap it up and get on with it."
There's no crying in baseball, or dancing.
"You can't be a victim. You have to be a warrior, " says Mia Michaels, who talked about breaking two toes and then went back on stage. "Really, quitting? You can be at the top of your game?"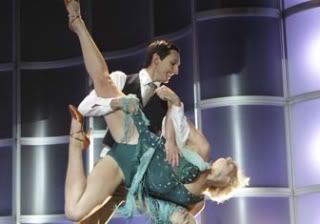 2008 FOX SUMMER TCA: (L-R) finalists Matt Dorame of Glendale, AZ and Kourtni Lind of Forest Lake, MN perform during the SO YOU THINK YOU CAN DANCE session of FOX's 2008 summer press tour Monday, July 14 at the Beverly Hilton in Beverly Hills, CA.