Here's some buzz for you: the CW just gave "Gossip Girl" a full season order.
The drama about high society teens in a tony New York City prep school became the first new series picked up for a full season of episodes. You can check out my review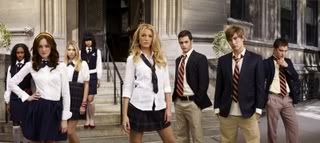 Gossip Girl– Pictured: (l-r) Nicole Fiscella, Leighton Meester, Taylor Momsen, Nan Zhang, Blake Lively, Penn Badgley, Chace Crawford, Ed Westwick stars in GOSSIP GIRL on THE CW. Photo Credit: The CW / Andrew Eccles (C) 2007 The CW Network, LLC. All Rights Reserved.
While the ratings haven't been stellar, the online buzz, the show's success on iTunes and DVR use all factored into "Gossip Girl" being deemed renewal worthy by the network.
The two most recent episodes continue to rank among the top 5 iTunes downloaded shows on the site.
For more on Blake Lively, check out my earlier blog item from the July Television Critics Press Tour. Scroll down. It's the second one.
Permalink Comments off