Don't get me wrong. I have every faith in the writers of "CSI" and "Two and a Half Men," but swapping writers for a May sweep stunt has me a little concerned.
Grissom (William Petersen) always had a little raunchy Charlie in him, but can Charlie and Alan really figure out a whodunit when they can't even find their way through a stunted life? Should be interesting when we tun in on May 5 for "Two and a Half Men" to discover CSI investigating a murder at Charlie Harper's Malibu home.

A CSI team investigates a mysterious death at Charlie's (Charlie Sheen) and Alan's (Jon Cryer) house on "Two and a Half Men" at 9 p.m. May 5 on CBS. Conchata Ferrell stars as Berta. Photo: Greg Gayne/Warner Bros.
And on the May 10 episode of "CSI," Grissom and the team solve the mysterious death of a diva sitcom star.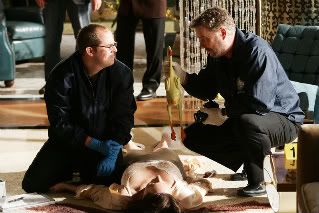 Grissom (William Petersen, right) and David Phillips (David Berman, left) become involved in the world of Hollywood comedy when a diva sitcom star (Katey Sagal, on floor) meets an untimely demise with a rubber chicken while filming her show in Las Vegas, on "CSI: Crime Scene Investigation" at 9 p.m. May 8 on CBS. Photo: Monty Brinton/CBS
The following are CBS's May sweep season highlights and finales. Read the rest of this entry »