According to a report in TV Week by Jon Lafayette, The CW will stop carrying "WWE Smackdown" at the end of the 2007-08 season.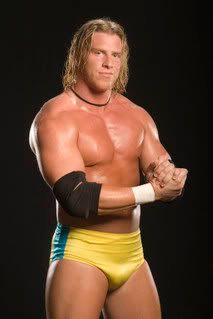 Good-bye WWE Friday Night Smackdown! superstar Brian Majors. Photo: Rich Freeda/WWE. ©2007 World Wrestling Entertainment Inc.
A few years ago, a network honcho told me they were going to try to get rid of the WEE because it was an embarassment to the network. Now, with the network drumming up an audience that could fit into any football arena in the country with room to spare, the only reason why they would want to cut it loose is for money concerns.
Lafayette writes that the WWE said it began talks with other networks after the CW's exclusive negotiation period expired on Jan. 31.
Among those likely to be contacted are MyNetworkTV, which is the Fox-generated programming currently airing on KRON-Channel 4, the former NBC affiliate currently up for sale.
Another contender is NBC Universal, which runs some WWE events in late night and whose USA cable channel carries WWE Raw on Monday nights.
Permalink Comments off