The CW believed so strongly that 90210 would be a hit, they didn't bother sending out review copies to critics.
What was the point? The network already knew they had a built-in audience ready to go back to the zip code that built the House of Fox. And they were right. Audiences turned out for 90210 in record numbers.
And the CW gained a lot of ground with young women viewers. Even if US Weekly says the girls on the show are too skinny.
And critics probably would be less than kind about the acting range of most of the cast – with the exception of Tristan Wilds who came from the critically acclaimed but low rated HBO series The Wire.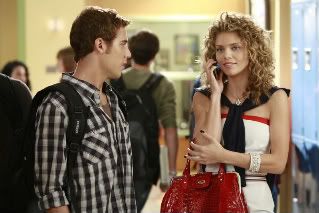 "Model Behavior"– Dustin Milligan as Ethan and AnnaLynne McCord as Naomi on 90210 on The CW. Photo: Michael Desmond/The CW ©2008
Barely a few weeks after the premiere, the CW has announced it has picked the series up for a full season run.
"The successful addition of '90210' has taken The CW another step forward in building a cohesive schedule that defines this network as a destination for young women with shows that get our audience talking — and watching," said CW Entertainment president Dawn Ostroff. "We're very excited about the chance to watch this ensemble of newcomers and familiar faces coalesce and grow together as we move forward."
The two-hour debut of "90210" shattered ratings records for The CW Network, becoming the highest-rated series premiere in the network's history with women 18-34 (4.5/12), adults 18-34 (3.1/9) and adults 18-49 (2.6/7).
The most recent telecast of 90210 scored week-to-week gains in target demos, including 6% in women 18-34 (3.3/10), 14% in adults 18-34 (2.4/7) and 3% in total viewers (3.3mil).
As for the critics, 90210 don't need no stinkin' critics to be a success. All they needed was the was the powerhouse producers Gabe Sachs & Jeff Judah ("Freaks & Geeks"). With those two on board, the critics probably would have given the show a thumbs-up. If anyone cared.
Permalink Comments off