NBC has decided that the opening ceremonies for the Olympics in Beijing are just so good, you've gotta see more.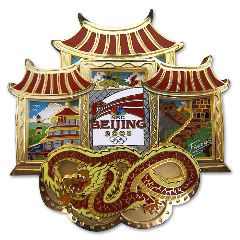 NBC Beijing Olympic Pin — NBC Universal Photo: Glenn Gracia
Now, the ceremony's going to air at a new early start time at 7:30 p.m. Friday on NBC, which means you get to watch for a whopping 4.5 hours. And, really, with the viewing choices on Friday hovering around slim and none, why the heck not watch?
Still, NBC feels the need to tart it all up for you to prove that they are doing it because a preview just looked so gosh darned good.
"After seeing two dress rehearsals in the last week, it's clear that this Opening Ceremony is simply spectacular and we're thrilled to be able to add an extra half hour to begin Friday at a special early start time," says NBC Sports honcho David Neal. "Zhang Yimou and his creative team have conceived a program that will captivate viewers in the U.S. and around the world."
Well, maybe we've chosen to be too cynical too soon. Chinese filmmaker Zhang Yimou ("Raise the Red Lantern," "House of Flying Daggers") has taken the creative helm as the chief director of both the Opening and Closing Ceremonies.
While the Opening Ceremony officially marks the start of the Beijing Olympic Games, Olympic competition actually begins with live opening round soccer matches on MSNBC. The USA women's team faces Norway live Wednesday at 7:30 a.m. ET and the USA men take on Japan live Thursday at 4:30 a.m. ET.
NBC Universal, broadcasting its record 11th Olympics, will present an unprecedented 3,600 hours of Beijing Olympic Games coverage, the most ambitious single media project in history featuring the most live coverage (nearly 2,900 live hours in total), across the most platforms, of any Summer Olympics in history.
Permalink Comments off