ABC announced the 13 new dancers – and yeah, yeah, I know it was leaked online last week, but I'm all about the official announcement.
When "Dancing with the Stars" returns on Sept. 22 with a three-night event, ABC wants you to know that it marks the largest cast ever, the oldest (the bawdy Cloris Leachman), two Olympic Gold medalists, a Grammy winner, an Oscar winner (again, Cloris) and a Super Bowl champ.
But they are forgetting the biggest hook of all: They've got Brooke Shields' high school prom date. Yep. Ted McGinley not only rocked on "Revenge of the Nerds," but he also escorted Ms. Shields to her high school prom. You heard it here first folks. Well, maybe not first…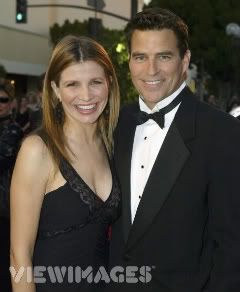 Ted McGinley with his wife Gigi Rice. McGinley
will be trying to boost his career with a turn on
ABC's "Dancing with the Stars."
Any way, all four professional dancers who've previously tasted the thrill of victory return to compete against one another for bragging rights.
For the first time ever, all 13 teams must prepare two routines for the first week of competition, one of which they'll perform on Monday night. The judges will score the performances on Monday while viewers cast their votes for their favorites. Only 12 will have the chance to showcase their second dance on Sept. 23.
On Tuesday's show, one couple will be eliminated as the remaining contestants perform their second dance of the season. The judges will score the dances on Tuesday and viewers will once again cast their votes before a second duo is dismissed on Sept. 24.
Talk about a quick step.
As announced today on "Good Morning America," in alphabetical order, the 13 stars making their ballroom dancing debut are:
LANCE BASS — Lance Bass has sold over 50 million records as a member of the phenomenally successful pop group *NSYNC. Lance has released his memoir, Out of Sync, for Simon Spotlight Entertainment. 2006 U.S. Youth Latin Champ and 2007 World Swing Dance Champ Lacey Schwimmer teams with Lance to make her series debut.
TONI BRAXTON – The winner of six Grammy Awards, Toni Braxton is a Billboard chart-topping singer and actress, selling over 40 million records worldwide. "Dancing with the Stars" marks her return to the spotlight after a six-month health hiatus. She teams up with Season One champion Alec Mazo, who returns for his fourth season.
BROOKE BURKE — A host, actress, entrepreneur and celebrity mom, Brooke Burke has truly done it all. She has graced numerous magazine covers, has her own top-selling swimsuit calendars and is regularly ranked in men's magazines as one of the sexiest women in the world. Recognized worldwide as host of the travel series "Wild On!" Brooke teams with Derek Hough, who returns for his third season.
ROCCO DISPIRITO – The James Beard Award-winning celebrity chef and author Rocco DiSpirito opened the three-star Union Pacific in New York City in 1997. In 2003 he launched Rocco's for the reality series "The Restaurant." Rocco will next appear on the A&E series "Rocco Gets Real," beginning in October, along with its companion cookbook, Rocco Gets Real: Cook at Home Every Day. He teams with Karina Smirnoff, who returns for her fifth season. Karina teamed with R&B singer Mario last season.
MAURICE GREENE – The winner of two gold medals in the 100m sprint and the 4x100m relay at the 2000 Sydney Summer Olympics, track star Maurice Greene was dubbed the "World's Fastest Man" during his career. In addition to being the former world record holder in the 100m sprint and winning multiple world championships, he also won silver and bronze medals at the 2004 Athens Summer Olympics. He is the current Indoor World Record holder in the 60m at 6.39 seconds. He teams up with two-time champion Cheryl Burke. Cheryl returns for her sixth season.
KIM KARDASHIAN — Actress, model and reality television star Kim Kardashian shot to the top of the tabloids with her E! reality series, "Keeping up with the Kardashians." The series follows the exploits of Kim, her siblings, her mother, Kris, and her stepfather, Olympic Gold Medalist Bruce Jenner. Kardashian recently completed her first feature film, "Disaster Movie," and will also be seen on The N's series "Beyond the Break." She teams up with defending champ Mark Ballas, who returns for his third season.
CLORIS LEACHMAN – Actress Cloris Leachman's storied career has been recognized with nine Emmys, a Golden Globe and an Academy Award. Cloris has starred in a wide range of theater, television and motion picture projects, creating such indelible characters as Phyllis in the TV series "Phyllis" and "The Mary Tyler Moore Show," Frau Blucher in "Young Frankenstein," Nurse Diesel in "High Anxiety" and Ruth Popper in "The Last Picture Show" (for which she won an Oscar). In 2008 she has already completed three new films, "The Women," "American Cowslip" and "New York I Love You." She teams with World Latin Champion and Mark's father, Corky Ballas, who makes his series debut.
CODY LINLEY — Cody Linley will be the youngest contestant ever to compete on "Dancing with the Stars." He is best known for his role as Jake Ryan on "Hannah Montana." He teams with two-time "Dancing with the Stars" champ Julianne Hough, who returns for her fourth season.
SUSAN LUCCI — As the most famous face in daytime television history, Susan Lucci plays "woman you love to hate," Erica Kane, on ABC's "All My Children." She celebrates her 10,000th episode this November. She teams with Tony Dovolani, who returns for his sixth season.
MISTY MAY-TREANOR — Beach Volleyball champion Misty May-Treanor and partner Kerri Walsh captured their second Olympic gold medal at the 2008 Beijing Summer Olympics and became the first team ever to repeat as back-to-back champs. She now joins a new teammate, Maksim Chmerkovskiy, who returns for his fifth season.
TED MCGINLEY — Actor Ted McGinley's extensive television credits include "Married…with Children," "Hope & Faith," "Happy Days." Newcomer Inna Brayer will be paired with Ted. Inna is the current U.S. Amateur 10 Dance Champion.
JEFFREY ROSS — Comedian Jeffrey Ross, a.k.a. the "Roastmaster General," was crowned by New York Magazine as "The Meanest Man in Comedy." He teams with Edyta Sliwinska, who is the only pro to compete in all seven seasons of "Dancing with the Stars."
WARREN SAPP – Recently retired defensive tackle and Superbowl Champion Warren Sapp played for the Tampa Bay Buccaneers and the Oakland Raiders during his 13-year career. Warren is teamed with Kym Johnson, who returns for her fifth season.
Hosted by Tom Bergeron ("America's Funniest Home Videos") and Samantha Harris ("E! Entertainment"), the celebrities will perform choreographed dance routines which will be judged by renowned Ballroom judge Len Goodman and dancer/choreographers Bruno Tonioli and Carrie Ann Inaba.
Permalink Comments off