I couldn't wait to watch the first episode of "Lost" – and when you are a TV critic, that means you get the DVD screener before it airs.
Now, ABC offers critics an even faster way to see the show, via the not-for-public-viewing Web site. And I can tell you, this first episode doesn't disappoint. It's non-stop action from start to finish, leaving you aching for more.
It's been a while since we've seen our "Lost" pals, and ABC has whipped up a great 8 minute and 15 second recap.
We should have gotten a full ride of all 16 episodes, but darn that strike (yes, we are still behind you), we'll only be getting eight episodes and perhaps not getting the next ones until almost summer time if then.
"Lost" is a series that ends after 48 episodes. Fans expected 16 episodes a year until 2010, when the series would finish. If the strike ends by mid-February, there's still a chance that "Lost" could produce the other eight episodes in time to finish airing in May.
After watching "The Beginning of the End," I'm back on board the "Lost" train. The producers now have an end game and the energy level is back with the actors and the writing.
There's a list of things ABC doesn't want us to reveal to viewers, so I'll just say that we get to jump into the future where some of the castaways have left the island – and are conflicted about it. And we see some of the things that happened on the island.
Oh, and one person comes back from the dead.
We can also tell you that Locke wants the survivors to stay on the island after Charlie's last message saying that they aren't from Penny's boat, while Jack says it's time to get off the island.
Who will stay and who will go?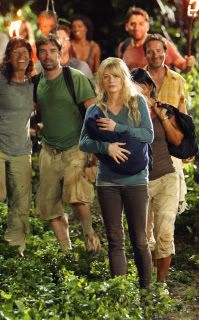 m>In the season premiere episode, "The Beginning of the End," feeling that their rescue is close at hand, the survivors don't know whether to believe Charlie's final message that the people claiming to liberate them are not who they seem to be. (ABC/MARIO PEREZ) EMILIE de RAVIN
Damon Lindelof always said that "Lost" was about redemption. Perhaps some left the islad a bit too early to be redeemed.
Come back here after the show airs on Thursday and, as Heidi Klum says, we'll have a little chat.