Thank goodness for the President's annual State of the Union Address.
With no end to the Writers Strike in sight, the networks are starting to sweat. They've squirreled away precious few new episodes. Just when CBS announced they were ready to place a few nuggets out there for viewers, they got a reprieve when they remembered, hey, doesn't the President of the United States usually do something we can broadcast around the end of January?
Voila-La. Bush finally comes to the rescue – and just in time to save those new episodes of "The New Adventures of Old Christine" and the premiere of the new sitcom "Welcome to The Captain" for February sweep.
According to the very nice press release sent out by CBS, "Welcome to The Captain" is a comedy about a wildly eclectic group of people whose lives are intertwined through the place they all call home, a fabled Hollywood apartment building, El Capitan, which they've dubbed "The Captain." It stars Fran Kranz ("The TV Set"), Chris Klein ("American Pie"), Jeffrey Tambor ("Arrested Development"), Raquel Welch ("The Three Musketeers"), comedian Al Madrigal, Valerie Azlynn ("Two and a Half Men") and Joanna Garcia ("Reba").
This is when I get kind of sad about no January Television Critics press tour so that I could find out what the heck Chris Klein was thinking when he told a women's magazine that he hated placating women and wouldn't tolerate his girlfriend gaining weight.
"When a woman isn't feeling good about herself and you combine that with her period, eventually she'll ask you if you like her body," he told Elle back in 2005. "You have to say no… I don't placate."
Katie Holmes apparently dumped him, which worked out quite well for her what with the whole TomKat deal.

Katie recovers nicely from her Chris Klein break-up
And just where has Chris been hanging out lately? Ditto Raquel. It's been a long time since the pin-up years and it's always nice to touch base, yes?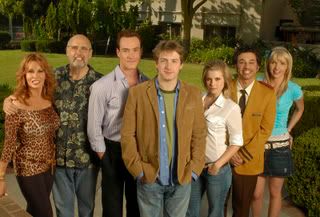 Raquel Welch, Jeffrey Tambor, Chris Klein, Fran Krans, Joanna Garcia, Al Madrigal and Valerie Azlynn make up the cast of WELCOME TO THE CAPTAIN
The State of the Union Address takes place on Jan. 28, shoving the CBS comedies to a Feb. 4 date.
Here's the new line-up:
Monday, Jan. 28
8:00-8:30 PM HOW I MET YOUR MOTHER
8:30-9:00 PM TWO AND A HALF MEN
9:00-10:30 PM CBS NEWS COVERAGE OF THE STATE OF THE UNION ADDRESS
10:30-11:00 PM RULES OF ENGAGEMENT
Monday, Feb 4
8:00-8:30 PM HOW I MET YOUR MOTHER
8:30-9:00 PM WELCOME TO THE CAPTAIN (Series Premiere)
9:00-9:30 PM TWO AND A HALF MEN
9:30-10:00 PM THE NEW ADVENTURES OF OLD CHRISTINE (Season Premiere)
10:00-11:00 PM CSI: MIAMI
Permalink Comments off