OK, it's just a week away from Veronica Mars, er, Kristen Bell, coming on "Heroes." But first, we must deal with tonight's episode.
I have to admit I wasn't blown away by the first, or even the second, episode of "Heroes." Things didn't start getting interesting for me until last week. This week, things really started percolating.
Spooky Sylar hooked up with the Troublemint Twins, a coincidence that makes you suspend your disbelief by epic proportions. But just like a bad horror flick, I started screaming at the screen: Shut UP Maya. Yet, she didn't, and now Sylar's heading to New York with the double sibs to find Suresh.
But the big news of the night is THE PHOTO. The photo shows the 12 who are related to some of the Heroes, like Hiro's deceased dad and Peter and Nathan's parents. We discover tonight that one of the men in the photo is Suresh's new boss and more importantly, another man in the photo is Parkman's estranged dad.
Parkman tells Suresh that dad deserted him when he was 12, gave him $125 and a pat on the head before dashing out of Dodge.
Worse news. Parkman's deadbeat dad is the Nightmare Man who has been haunting Parkman's charge Molly.
Cripes!
So Parkman gets Molly to confront her worst nightmare and seek out evil dad. What were you thinking, Parkman??? Now we know where daddy dearest is, but at what cost to poor little Molly?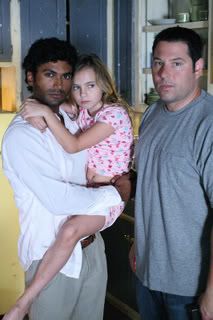 Sendhil Ramamurthy as Mohinder Suresh, Adair Tishler as Molly, Greg Grunberg as Matt Parkman — NBC Photo: Chris Haston
Next week, Kristen Bell, who looked deliciously wicked in the previews. "Heroes" is back on the can't wait for the next episode list.

Kristen Bell as Elle — NBC Photo: Chris Haston
Oh, and the Big Showdown with Nightmare Man is just three weeks away. Here's the blurb:
Nov. 5 episode:
WHILE SEVERAL HEROES FACE OFF AGAINST THE "NIGHTMARE MAN," PETER LEARNS JUST HOW DEADLY THE VIRUS CAN BE — When one of his forgotten abilities suddenly manifests, Peter (Milo Ventimiglia) and Caitlin (Katie Carr) get thrown into a crisis situation, and learn first-hand just how deadly the mysterious virus striking people with abilities can be. Suresh (Sendhil Ramamurthy), Matt (Greg Grunberg), Nathan (Adrian Pasdar), Niki (Ali Larter) and Bob (guest star Stephen Tobolowsky) band together to fend off the "nightmare man's" attack. Despite Claire's (Hayden Panettiere) best efforts to keep them apart, West (Nick D'Agosto) learns that the man who kidnapped him as a child is her father (Jack Coleman). Meanwhile, in feudal Japan, Hiro (Masi Oka) and Kensei's (David Anders) legendary journey takes a dramatic, final turn. Kristen Bell, Noah Gray-Cabey, Dana Davis, James Kyson Lee, Zachary Quinto and Dania Ramirez also star. Alan Blumenfeld, Jimmy Jean-Louis, Shalim Ortiz, Eriko Tamura and Adair Tishler guest star.