When the driver got lost on the way from San Jose to Livermore, the video interview with "Journeyman" Reed Diamond also took a strange turn: We ended up shooting the interview on the NBC float traveling down the holiday parade route in Livermore.
At night. With a journalist (me) who, until recently, limited my videotaping to soccer games and birthday parties. So be kind when you watch this week's SueTube with Reed.
Anway, Reed says when he and wife Marnie were in Solvang last week, he says women were yelling at him from the stores to give his "brother" a break.
That would be his fictional brother Dan (played by "Rome" star Kevin McKidd), a man who suddenly started traveling in time to right certain wrongs in "Journeyman." Think of it as a sort of "Quantum Leap," with Dan as a time-traveling San Francisco reporter trying to cope with it all.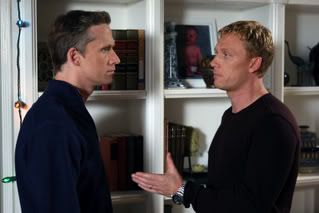 Reed and Kevin McKidd from the Christmas episode airing next week
"It's like, wait a minute, wait a minute. Would YOU believe someone who told you they were time traveling?" says Reed, who plays Dan's cop brother Jack. "C'mon. But give him some time. Things change."
Reed and Marnie did double-parade duty last weekend in Livermore and, the much larger San Jose parade. First up was Livermore's parade, which lasts about five minutes. Reed loved every minute of it, waving and chatting to the crowd from atop the KNTV-Channel 11 float, complete with a mock Bay Bridge (with toy cars traveling on it), a faux helicopter and even a tiny vineyard.
Certainly the good times took his mind off the writers' strike which is crippling Hollywood right now.
"It's a righteous fight. Last time around, the writers didn't get their fair share from DVD sales. Now it looks like the same thing is going to happen with Web sales," Reed says. "They lost a lot of money on DVD sales, but this fight is important because in a few years, kids are going to look at those shiny discs and say 'what is this Daddy?' The Internet is the next big revenue source for producers, and the people who make those shows deserve to get some of that money."
Reed and other actors are supporting the writers because their contract comes up in June, and the actors will be fighting for those same Internet dollars.